Fast & Furious : Hobbs & Shaw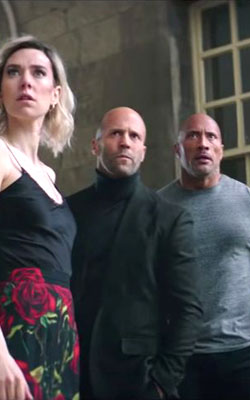 A still from Fast & Furious : Hobbs & Shaw
Fast & Furious : Hobbs & Shaw, an
English movie
, is not currently screening in Hyderabad.
Cast

Music

Writer

Director

Producer

Language

Genre

Release Date

Duration

Add New Field:
LATEST COMMENT
The Common Movie Goer
on 5th Aug 2019, 10:22pm
|
Permalink
HAHA! I am super intrigued now. I would love to read the M-rated version as opposed to the PG-13 version you have over here.

Oopiri was not melodramatic, was it? I mean it was, but...was it though? Every time you thought it's going to get serious, they made a conscious effort to end the sequence with a joke. Truth be told, I am glad NTR didn't take up that role. I am sure he would have been stellar. Guy can self-deprecate himself and play goofy characters like no other (Chari in Adhurs), but chooses to stick with an untouchable godly persona most of the time. Karthi, on the other hand, had the perfect mix of aloof and uncouthness that was needed for the role.

Nagarjuna was on another level. As Ravi mentioned in his review, he was born to play affluent, opulent, and dignified people. Him making out on screen just looks bad, since there's no precedent. The only time I ever saw on-screen kissing involving Indians look good was in Filtercopy's What the Folks (strongly recommend Season 1 for the acting and chemistry!). Seems like a desperate attempt to hold onto his youth. Hope to be proved wrong this Friday.
A great man once said, "If you judge a fish by its ability to climb a tree, it will live its whole life believing that it is stupid." In simple metaphorical terms, this new instalment in the Fast And Furious franchise is the fish, and good filmmaking is the tree. A film from this franchise will never climb said tree because that is not its primary objective. On the contrary, its primary objective is to entertain an audience with mindless action and the artifice of emotion, and by using the word "family" about 344,543 times.

Speaking of primary objectives, there exists a virus tha....