A certain Wodehouse character, a wannabe mystery writer, first used to think up titles that he decided were really cool for his novels, and then used to think up plots for the titles. "The Case Of The Whispering Windmill" or "The Mystery Of The Dyslexic Mummy", for instance. Road seems to have happened similarly. Tech-God Varma had this grand visual in his mind of a barren arid ad infinitum highway flanked by sand dunes and melting into mirages - the single image that Mad Max leaves in your head years after you've seen it - and decided to make a movie centered around that.

An abiding visual, we agree, but Mad Max derived its visuals from a theme, and not the other way round. Road seems almost like a kid who saw the flick was majorly inspired and wanted to create something like that himself, and finally did it when he hit big time. Only, we might add, forgetting in the process that he was making a movie that needs to sustain people's interest for 150 minutes.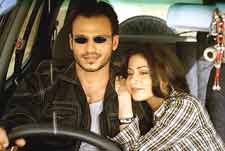 Road is expectedly high on visuals and technical values - the things that Varma is perhaps the best at in the country today. But it's in trying to incorporate a script into his uni-track vision for this film that he fails. The story is about a young couple on the run who give a lift to a psycho, who then makes life miserable for them. Now if you are going to make a whole movie around 3 players in this scheme, you need to be brilliant at two things: in showing genius and counter-genius in the man of prey and his quarry, and in imparting character to the three protagonists. Road fails pitiably at both.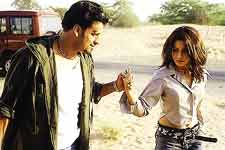 Check out how bad it can be to have to use that theme for 2½ hours. Arvind (Vivek Oberoi) and Lakshmi (Antara Mali) are eloping in a Safari through the searing deserts of Rajasthan. It turns out to be car-jacker route when on the way they offer a hike to a psycho Babu (Manoj Bajpai),

who soon puts a loaded 45 to Arvind's head to pass his punk ass and head off with Lakshmi. Arvind then hitches a ride from a truck and intercepts Babu to skunk him and reclaim his girl and the LCV, but Babu gets hold of that truck now and chases the couple violently, but fails to get them.

Now the two get to a hamlet along the way where they rest for the night, and the next morning find Babu and his gun again in their car, and again Babu gets Arvind off and heads away with Lakshmi. And while Arvind starts the chase all over again, Babu gets impressed by Lakshmi and, yes, falls in love with her. And the chase continues.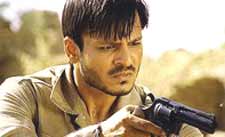 The film is monotonous and boring. It desperately tries to con you into thinking that it is slick and fast-paced through the background music, the sound and the songs, but that's a tough act to keep up when you're trying to show the same thing for, yes, 2½ hours. Also, there's absolutely no genius anywhere in how Babu tackles Arvind and the cops, or vice versa.

The chases are unequivocally insipid, and the ploys could've been thought up by Johnny Bravo. And a lot of the stuff is unrealistic - starting right from why Babu leaves his accomplice dead in a car to be found by any passerby (rather than just bury him in the sand by the road and take the car), to why he wants to chase after Arvind and Lakshmi in the first place, to finally the climax where first Arvind loses Babu at point-blank range and then Babu 'coincidentally' falls off his bike so Arvind can get him.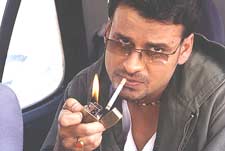 Another thing that the movie fails in, like we've pointed out earlier, is in building powerful characters for Arvind, Babu and Lakshmi - at least for the latter two, who spend most of the time by themselves on screen. The film does try to do something with Babu, but he turns out to be just another idiosyncratic villain, a sketch anyone who's seen enough Bollywood flicks and fancies himself creative can do without any real logical construction. There's no solid person in him, the kind you find in, say, a Stephen King creation. As for Lakshmi, her job is to be cunning and subtle, but this is a little too subtle for any empathy. Is it poor acting or poor situation conceptualization? You decide.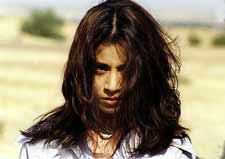 Vivek Oberoi doesn't have too much to do except look annoyed. Antara Mali is good in the lighter side of Lakshmi, but not in the scheming side. She looks raunchy, a quality Varma is quite good at imparting his heroines. Manoj Bajpai is okay in a poorly thought out role. The humor is like they're trying hard to make you laugh, and the dialogues are quite commonplace, except for some smart bits with Bajpai when he's craving for recognition from Lakshmi for his 'humane' side and his looks. Kinda like when evil fiend Rumpelstiltskin puts a cigar in his mouth and blurts out, "Just what I needed - another bad habit!"

To use an expression in the same league of creativity as that of this flick, stay off this road.