Agent Sai Srinivasa Athreya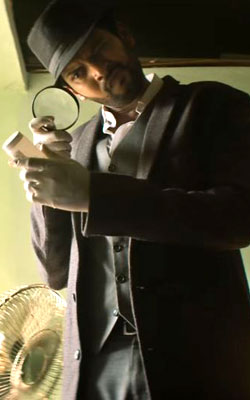 A still from Agent Sai Srinivasa Athreya
Agent Sai Srinivasa Athreya, a
Telugu movie
, is not currently screening in Hyderabad.
Cast

Music

Writer

Director

Producer

Language

Genre

Release Date

Duration

Add New Field:
LATEST COMMENT
rahulsachinsourav123
on 25th Jun 2019, 12:22pm
|
Permalink
My heart really warms every time I come across such a genuinely talented & performing actor like Naveen, in this world dominated by so called superstars making all noisy, flashy, colorful, extravagant, expensive, meaningless films. With right scripts, roles and directors, he might be next Vijay Devarakonda in the making. Looking forward to see more such capable actors playing hero roles successfully and forcing others who became superstars by ENTITLEMENT, to keep reinventing themselves.
AGENT SAI SRINIVASA ATHREYA REVIEW
If the word "detective" brings to mind an steely man in an overcoat and a hat, a cigarette between his lips and a determination in his walk, then you are in for a fun ride with Agent Sai Srinivasa Athreya – Telugu cinema's own Sherlock Holmes. Or rather, wannabe Sherlock Holmes.

Athreya (Naveen Polishetty) is a youngster who has set up a detective agency of his own named FBI - Fathima's Bureau of Investigation. The film opens with him training his new assistant Sneha (Shruti Sharma) by making her watch classic Hollywood detective thrillers. This scene sets the tone for the res....


AGENT SAI SRINIVASA ATHREYA STILLS