Bhaggmati - The Queen Of Fortunes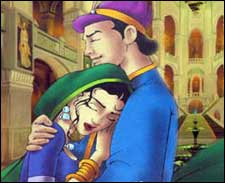 A still from Bhaggmati - The Queen Of Fortunes
Bhaggmati - The Queen Of Fortunes, a
Hindi movie
, is not currently screening in Hyderabad.
LATEST COMMENT
Abdul Bari Mohammed
on 2nd Sep 2005, 2:28pm
|
Permalink
This story is well placed in animation only, well part of sense of present generation(non animation scenes) wasnt shown in a good sense. well, the scenes of animated story made was the very best. well, the story had gone in to lot of details, but changing of 'Bhagnagar' to hyderabad because of Bhagmati changed her name to hyderi begum and building hyderi mahal for her were not mentioned in it. Well, i think it would become a very very big movie, if everything were shown. I atleast thank the makers of this film reflecting the lifestyles, richness, and culture of the then rich hyderabad, Golconda kingdom.


A 35 crore budget for showing off to the world the two things that we Indians uniquely possess – heritage and technical expertise – is money well spent. Bhagmati, the first Indian film crossing the live-animation barrier, took 3 years to present the above ingredients in balanced proportion. Though the animation will not beat Walt Disney's – not yet – the story will. Because Bhagmati is, more than about technology and filmmaking, about the genesis of a great city.

Sriranjini (Tabu) is a university topper, and nurses an ambition to research the age-ol....