Golconda High School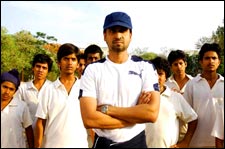 A still from Golconda High School
Golconda High School, a
Telugu movie
, is not currently screening in Hyderabad.
LATEST COMMENT
Sravanthi
on 1st Feb 2011, 5:31pm
|
Permalink
It is indeed a good movie and as Saradhi mentioned, it is a must watch for subtle movie lovers. If you like faction based movies, then this is not the one for you. I found myself enjoying the show and would like to go again to watch if time permits. Sumanth, as always excels in such kind of roles, where he is more sophisticated and dignified. After Godavari, I liked him in this movie and he performed his role well. Swathi, I believe has played a character which she doesnt suit well. she is more a bubbly girl kind than a matured teacher. Kamalini Mukherjee would have been a better choice but again the women in the film had very less to do. The kids gave a splendid performance and I personally liked Goutham, Siddanth, Ramesh and Michael. They proved to be the best players on the field in the movie. Movies like these will not grab huge num of audiences, but again its a personal choice. I LIKED IT. WELL DONE!!
GOLCONDA HIGH SCHOOL REVIEW
We could dismiss Golconda High School using two phrases - Chak De India and Lagaan - but the movie deserves better, so we'll begin with two words: well-played.

In one of the film's most intense scenes, Golconda High School's suave, frank English-speaking French-bearded cricket coach explains to his team that machismo is not about slapping your thigh, twirling your mustache and roaring bloody murder. The scene, as expected, draws some applause.

Unfortunately, the movie faces a real threat from the very things that the scene sneers at - the stuff that sees crowds ac....