Oka Romantic Crime Katha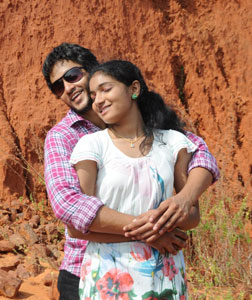 A still from Oka Romantic Crime Katha
Oka Romantic Crime Katha, a
Telugu movie
, is not currently screening in Hyderabad.
Cast

Music

Director

Sunil Kumar Reddy

8 users say this is wrong.

Producer

Y Ravindra Babu

1 user says this is wrong.

Language

Genre

Release Date

Closest Theatre

Add New Field:
LATEST COMMENT
suuuper bayya ....baga cheppav.its a bold and good fim that makes teenagers to think what they doing,they don't think that they are doing right or wrong.it that is wrong.everyone have to analysis the people around them,who are loving them and who is trying to betray them..................finally nice film and nice comment of yours"charan"
OKA ROMANTIC CRIME KATHA SYNOPSIS
Three teenage girls - Tanmayi, Veena and Anjali - and two boys - Sanjay and Kiran - are dealing with different issues in life. The film explores the issues that this hormonally-charged phase of life brings about, like emotional turmoil, teenage pregnancy, friendship, love and tendency towards crime.
OKA ROMANTIC CRIME KATHA REVIEW
"This film is only for adults, ma'am. Do you have proof of your age?" the well-trained attendant at INOX's ticket counter asks us, before pulling out a form (presumably, to declare that we are older than 18) for us to sign.

That may as well have been a consent form for a surgery gone horribly wrong.

Because there's no two ways to say this - Oka Romantic Crime Katha is a film so bad it's a wonder how it managed to get itself a release. The makers of this story of teenage depravity have more issues than worrying about underage audiences, and they ought to start wit....


OKA ROMANTIC CRIME KATHA STILLS