Ice Age 4: Continental Drift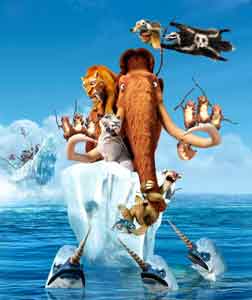 A still from Ice Age 4: Continental Drift
Ice Age 4: Continental Drift, an
English movie
, is not currently screening in Hyderabad.
Cast

Music

Director

Producer

Language

Genre

Release Date

Published By

Add New Field:
Scrat the nuts-over-nuts squirrel sets off yet another disaster in the calamitous pursuit of his beloved acorn, the disaster du jour being continents breaking off and drifting away from the original Pangea landmass. And, once more, Manny, Sid, and Diego have to face great dangers and amazing adventures to save the day, so they can start a new life.
Meeting old friends, some honest-to-God LOL moments, delightful new characters and great visuals are some of the things that make Ice Age 4 a fun watch. You'll notice that a good storyline was not included in the above list. This movie, while an entertaining enough watch, is a definite sign that the franchise has only a tenuous hold on its tether.

Moody Manny the mammoth (Ray Romano), Sid the giant sloth of the "know me at your own peril" fame (John Leguizamo), and "fear me for I'm a dangerous sabre-tooth" Diego (Denis Leary) are definitely happy to be back, along with Ice Age'....