Kya Super Kool Hain Hum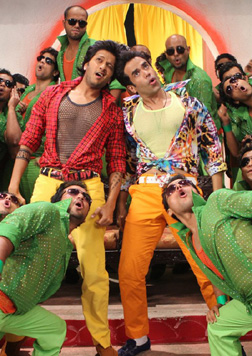 A still from Kya Super Kool Hain Hum
Kya Super Kool Hain Hum, a
Hindi movie
, is not currently screening in Hyderabad.
Cast

Music

Director

Producer

Language

Genre

Release Date

Add New Field:
LATEST COMMENT
annuraag
on 31st Jul 2012, 5:39pm
|
Permalink
i watched this movie on friday. defiantly it is not a family movie, it has a high profanity rate. my advice for parents please do check out the latest review of movie kya super kool hain hum before watching this movie with your kids, I would recommend reading review at http://bollywood4family.com
This typical Bollywood style comedy of errors tells the story of Adi (Tusshar Kapoor), a struggling actor, and Sid (Riteish Deshmukh), a struggling DJ, as they fumble and flounder through life. Adi falls in love with the rich and spoiled Simran (Neha Sharma) and proposes too soon, causing her to flee to Goa with her best friend Anu (Sarah Jane Dias). Problem? The diamond on ring belonged in the collar of Sakru, Sid's pet dog and the love of his life, and the boys have no choice but to follow the girls to Goa to try and get it back from them.
Seven years after Rahul and Karan took bawdy humour and innuendos to a new level, Ekta Kapoor presents Adi and Sid to the world in the sequel to Kyaa Kool Hain Hum - Kya Super Kool Hain Hum. This time, it is Sachin Yardi who takes on the reins as writer and director of the film, as is his due, since he was the one who wrote the first film, and who would know these characters and their inanity better?

Adi (Tusshar) is a struggling actor, who earns his living by shooting for teleshopping commercials of fairness creams and gym equipment. He worships Rohit Shetty, the director, and ....