National Treasure - Book Of Secrets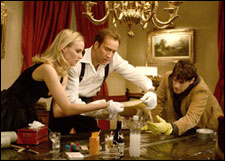 A still from National Treasure - Book Of Secrets
National Treasure - Book Of Secrets, an
English movie
, is not currently screening in Hyderabad.
Cast

Director

Language

Genre

Release Date

Add New Field:
LATEST COMMENT
Aamchi Hyd
on 16th Feb 2008, 2:43pm
|
Permalink
That lone star was for the review, which sums up both National Treasure movies (and most of what Cage has done recently, not counting Adaptation) as worthless pieces of crap that audiences who feel 'critics-are-critical' will gladly swallow. Good for balding Cage, who can continue his cringe-worthy work (his 'Next' seems like a masterpiece when compared to the NT movies, he aslo wants to do another NT sequel and a sequel to the yucky Ghost Rider as well). Ed Harris and Harvey Keitel are on hand (looking embarrassed as hell), just to collect their paychecks, leaving us to wonder if there will be a repeat of Gone Baby Gone or A History of Violence (for Harris, among others) or Reservoir Dogs/Piano/Pulp Fiction (For Keitel). India gets to watch this crap, but Gone baby gone does not release, and tons of other excellent indie efforts (Persepolis/No country for old men/There will be blood/Lars and the real girl, this year, to name a few) that languish in the cans because of poor taste. And this is still the place where a 'Mithya' and a 'Bheja Fry' finds an audience. Ironic? Moronic? Choose.


If you're into trivia and quizzing, you may have come across the phrase "kitchen question". This is a cooked-up quiz question that has been "invented" by the quizmaster in a moment of inspiration. It is entertaining, sometimes funny, intriguing, but essentially bogus. Just about sums up National Treasure: Book Of Secrets.

While all fictional plots are by definition "made in kitchen" plots, some are "made in kitchen under the influence of recreational drugs" plots. NT: BoS is one such, and we're not even sure only "recreational drugs" were involved. The su....