Paranormal Activity 4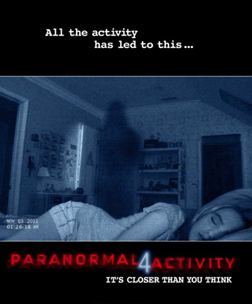 A still from Paranormal Activity 4
Paranormal Activity 4, an
English movie
, is not currently screening in Hyderabad.
Cast

Writer

Director

Producer

Language

Genre

Release Date

Website

Add New Field:
PARANORMAL ACTIVITY 4 SYNOPSIS
Alex didn't like Robbie even when he was the spooky brat across the street. Now that the brat is living in Alex's home, things start going wrong. And Alex, with the help of her boyfriend, is determined to link Robbie with all the Paranomal Activity. In true PA style, found footage helps you figure out this mystery, but what if some mysteries are better off as just that?
PARANORMAL ACTIVITY 4 REVIEW
We have suspicions of a conspiracy to root out all original stories, and to turn cinema into sets of templates which people can tweak to churn out movies. We know this might sound crazy, but there are signs everywhere, especially in Paranormal Activity 4.

The makers' USP of found footage still works, but barely. Nearly every step the plot takes is towards yet another ruminated-a-hundred-times-over development; and the big happy family of spooky family characters - including the creepy kid with "invisible" friends, the nubile teenage virgin, the skeptical parents, the "live" hou....


PARANORMAL ACTIVITY 4 STILLS