Prema Katha Chithram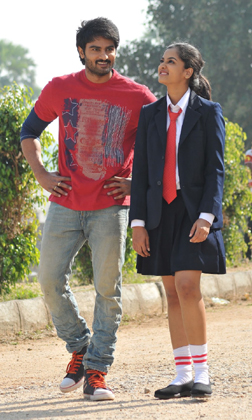 A still from Prema Katha Chithram
Prema Katha Chithram, a
Telugu movie
, is not currently screening in Hyderabad.
Cast

Music

Writer

Director

Producer

Language

Genre

Release Date

Duration

Add New Field:
LATEST COMMENT
swathi arepalli
on 20th Jul 2013, 8:38pm
|
Permalink
It is a funniest horror movie that had ever seen.the beauty of the movie is the performance of the heroine.
PREMA KATHA CHITHRAM SYNOPSIS
Disappointed with their lives, Sudheer (Sudheer), Praveen (Praveen), Nanditha (Nanditha) and Giri (Giri) decide to commit suicide at a deserted farm-house. But before doing so, they want to fulfill their last wishes, thus taking the audience on a comedy ride. Meanwhile, love blossoms between Nanditha and Sudheer. But their intimacy is always disrupted by the evil ghosts of the haunted farm house. How they get out of the clutches of spirits and understand the value of life, is what Prema Katha Chitram all about.
PREMA KATHA CHITHRAM REVIEW
Warning: Spoilers ahead.

If there's anything Ram Gopal Varma has taught us, it is that people who visit deserted farmhouses in the middle of nowhere, are asking for it. But Maruthi, who wrote Prema Katha Chitram, manages to give us a tight enough premise to forget that lesson.

Spook fest Prema Katha Chitram is a fun, young, clever movie that typifies Tollywood's rise of fresh, new blood. If not for star brother-in-law Sudheer Babu, this might even have been a celebration of the anti-bloodline in Tollywod.

And as is the case with....


PREMA KATHA CHITHRAM STILLS