Seethamma Andalu Ramayya Sitralu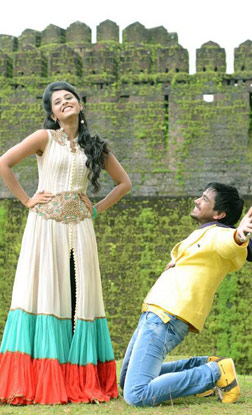 A still from Seethamma Andalu Ramayya Sitralu
Seethamma Andalu Ramayya Sitralu, a
Telugu movie
, is not currently screening in Hyderabad.
Cast

Music

Writer

Director

Producer

Language

Genre

Release Date

Add New Field:
LATEST COMMENT
Hi Jwalakaumudi!

It's been a hectic week and a lovely valentines. I finally just found time to get back to our discussion :)

Before anything at all, let's tell ourselves to not get into binary variables. It is almost never "either this or that". It is most often "bit of this and that". So, I must reiterate that when I mention movies have a business component I do not mean that that is the only component (now, that would be a gross misstatement).

Coming to the rating issue - think of a 100 rupees. The same hundred could mean a Matte finish lipstick to some or a McDowell quarter whiskey to some others. The McDQW audience may not find the lipstick to be worth a hundred and vice versa. If you are a neutral economic entity, how are you going to explain this to either party?

Simple answer is - you don't. You charge the customer on the two parameters viz; how much it cost to make and how much the customer is willing to pay. It doesn't matter what the whiskey drinker thinks of the lipstick.

Similarly, I feel a rating is expected to reflect the innate quality of the movie and also the satisfaction it may provide to its target audience. I can't rate 'Delhi Belly' to be a 4 or a 3 just because it will offend a large part of the population. The film will be rated a 7.5 because its target audience is bound to love it.

But the review will, however, talk about how profane the film is. Alongside the fact that it is riproaringly hilarious. Because the review offers the scope for more communication. There I can afford to speak to the broader audience. Because it isn't a number but more elaborate prose.

And there, it is entirely my opinion. I am writing what I think of the film. Granted a review is not a soliloquy, it is more of a dialogue. But while I am talking to you, I'm still talking my mind. So rest assured, it is always my opinion that you find in the reviews.

Coming to your most emphatic point - the one about shepherding the audience away from 'bad films', I've mentioned earlier that I respect other people's tastes. I can't happily tell someone what they like is trash. That judgement is really not something I believe in.

Instead, what I do is I try to tell folks when I find something awesome in a film. I try to compliment it and let people know. So when a friend texts me saying she took her mother-in-law to Saala Khadoos solely because she liked my review; and they both end up liking it so much they thank me for the recommendation, I think I have indeed done my bit for good cinema.

To complain about misogyny in a masala movie is a bit like lecturing on world hunger in a bachelor party. Instead, I prefer to write highly of female role models which is like talking about Akshaya Patra to anyone who cares to listen.

Once again, thanks for the discussion. It's so much fun articulating these things.
SEETHAMMA ANDALU RAMAYYA SITRALU REVIEW
Raj Tarun has definitely made sure that he has had variety in his movies. Loads of variety, in fact. In Cinema Soopista Maava, he was a jobless lout who failed Intermediate and fell in love with a girl studying engineering. In Kumari 21F, he was a jobless lout and fell in love with a girl who was a model. In Seetamma Andaalu Ramayya Sitraalu, he is a jobless lout who's failed Intermediate and falls in love with a girl studying MBBS. See how the girls have different careers in each movie?

However, in all these movies, the girls fall for him. In spite of him being a jobless lout, ....


SEETHAMMA ANDALU RAMAYYA SITRALU STILLS