Student Of The Year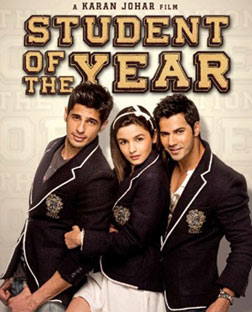 A still from Student Of The Year
Student Of The Year, a
Hindi movie
, is not currently screening in Hyderabad.
Cast

Music

Writer

Director

Producer

Language

Genre

Release Date

Add New Field:
LATEST COMMENT
Hey.. the names of the guys are Siddharth Dhawan and Varun Malhotra.
STUDENT OF THE YEAR SYNOPSIS
In the fairy-tale world of a boarding school in Dehradun, not much happens to shake up the party-loving social butterflies that are the students of St. Theresa. Except, of course, the "Student Of The Year" competition. The question of whether the prize should go to the hard-working orphan boy, the muscly spoilt brat, or the insufficiently-clothed-for-the-weather spoilt brattess, forms the crux of the plot.
STUDENT OF THE YEAR REVIEW
Karan Johar is revered for his surreal perception of reality, and all his movies have that one layer of something not quite right to make them almost dreamlike and fantastical. In other words, loads and loads of fluff, and every attempt to avoid any glimpse of realism. Turning 40 has not quite changed his acumen, and his latest offering, Student Of The Year, is almost a defiant challenge to critics and friends alike.

So there is this world - a co-ed boarding school named St Teresa, in Dehradun - untouched by grime and grittiness. It is a colourful (and how!), blingy, self-suffi....


STUDENT OF THE YEAR STILLS