The Amazing Spiderman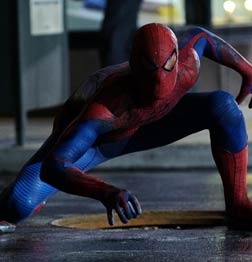 A still from The Amazing Spiderman
The Amazing Spiderman, an
English movie
, is not currently screening in Hyderabad.
Cast

Music

Director

Producer

Language

Genre

Release Date

Closest Theatre

Add New Field:
THE AMAZING SPIDERMAN SYNOPSIS
In director Marc Webb's depiction of the web-weaving superhero Spiderman, Peter Parker (Andrew Garfield) confronts his childhood. In his quest to find out his true identity, and why his parents left him, he is led to the biochemical laboratory of Dr. Curt Connors (Rhys Ifans), where a huge experiment is on. He then discovers his father's secret.
THE AMAZING SPIDERMAN REVIEW
According to Matt Tolmach, one of the producers of The Amazing Spider-Man, Peter Parker is what sets Spider-Man apart from the other super-heroes - "He's a kid who has trouble with girls, he's not popular, he's not rich and powerful... he's just an ordinary boy." And that, according to the Tolmach, is what makes him relatable - a man who you can see bits of yourself in.

Columbia Pictures has taken its old Spider-Man franchise presents it as a rebooted movie named The Amazing Spider-Man. The movie goes back to Spider-Man's roots, and showcases his evolution from an anti-social t....


THE AMAZING SPIDERMAN STILLS