The Curious Case Of Benjamin Button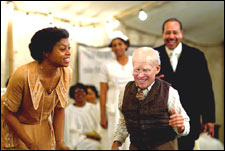 A still from The Curious Case Of Benjamin Button
The Curious Case Of Benjamin Button, an
English movie
, is not currently screening in Hyderabad.
Cast

Music

Director

Language

Genre

Release Date

Website

Add New Field:
LATEST COMMENT
A Perfect Review.

With a character like Benjamin (a man aging backwards), if there was something interesting the writers could have thrown in, the film would have been a masterpiece.

Though, now, it is not at all bad.. It a movie with a great feel. I did not get bored even once (which some people complained) through out the nearly 3-hour runtime.

Extraordinary Visuals. Simply brilliant.. and a special mention to the background score. This is what mainly gives that 'pleasant breezy feeling' while watching the movie.

I think this movie deserves to be watched when compared to the other movies that are playing in town, right now.

Let me add again, A perfect review by Samrat.
Note: This review is in reverse order. Each paragraph is structured the regular way, just the order is reversed. So the last paragraph is the first, the second last is the second and so on. Start reading from the last paragraph and make your way upwards. Why did I do this? Scroll down and find out.

Benjamin Button the film is a good film, but not a great one. The crux of that is Benjamin Button the character as portrayed on screen. If this was a story of anyone as interesting as the rest of the characters, the film would have been a masterpiece. As it stands right now, this i....