Madagascar 3 - Europe's Most Wanted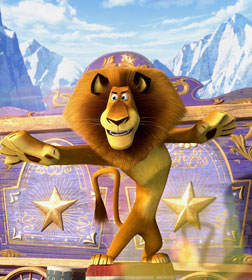 A still from Madagascar 3 - Europe's Most Wanted
Madagascar 3 - Europe's Most Wanted, an
English movie
, is not currently screening in Hyderabad.
Cast

Music

Director

Producer

Language

Genre

Release Date

Website

Add New Field:
Eccentric animals Alex the Lion, Marty the Zebra, Gloria the Hippopotamus and Melman the Giraffe are still in Africa, and want to get home to the Big Apple. They set out on their journey home, but need to hide themselves in a travelling circus.
Madagascar 3, set in Europe this time, is a much grander and larger adventure than its predecessors. There's action and new characters, and then there are great visuals to back it all up. But although one might welcome the largesse, it doesn't really fall into place, as the wit and the banter that were the charm of this series are traded for action and grandiosity.

Alex the Lion (Ben Stiller), Marty the Zebra (Chris Rock), Gloria the Hippo (Jada Pinkett Smith), and Melman the Giraffe(David Schwimmer) are back, and still trying to get home to New York. The movie starts in Monte Carl....