Bol Bachchan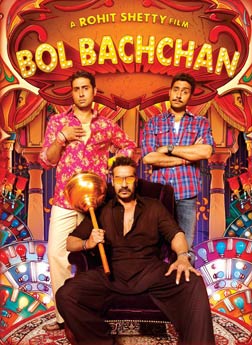 A still from Bol Bachchan
Bol Bachchan, a
Hindi movie
, is not currently screening in Hyderabad.
Cast

Music

Director

Producer

Language

Genre

Release Date

Add New Field:
LATEST COMMENT
Nupur Barua
on 21st Jul 2012, 6:04pm
|
Permalink
I don't mean silly in a negative way...I mean silly in the sense that it was mindlessly funny. :-) Will have to stop saying things that seem negative, when, in fact, that it is not my intention.
BOL BACHCHAN SYNOPSIS
Abbas Ali (Abhishek Bachchan) and his sister, Sania (Asin Thottumkal), lose a legal battle for their ancestral property, and are left destitute. A well-wisher, Shastri Chacha, convinces them to move to his village Ranakpur, with the promise of employment under his own employer, the powerful Prithviraj Raghuvanshi( Ajay Devan). Due to an unforseen turn of events, Abbas has to hide the fact that he is Muslim. From that one lie sprout up a whole bunch of others, including the invention of a twin brother without a moustache.
BOL BACHCHAN REVIEW
Rohit Shetty recently stated that he does not care much for critics, because they over-react to his films by questioning the lack of intellectual fare. If his latest offering, Bol Bachchan, is anything to go by, the action-comedy director seems to think that his target audience lacks any intelligence, and the record-breaking advance booking collections only add to his conviction.

Abbas Ali (Abhishek Bachchan) is caught in a dilemma (through most of the film) - his relatives have seized his father's property, and his sister, the art director Sania (Asin), is his biggest res....


BOL BACHCHAN STILLS