Joker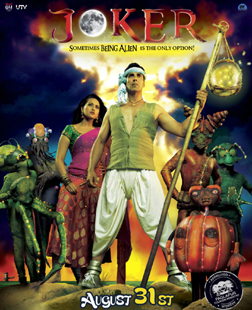 A still from Joker
Joker, a
Hindi movie
, is not currently screening in Hyderabad.
Cast

Music

Director

Producer

Language

Genre

Release Date

Website

Add New Field:
LATEST COMMENT
For the first time in 4 years, I went for a movie on the first day and it happened to be JOKE of the year.. Joker..
I saw reviews by 1 pm (znews : 1/5; ndtv: 1/5; two other reviews 2.5 and 3... I set very low expectations with the family about the movie.
My 12 year old kid enjoyed the movie. Most of the scenes are highly illogical but some of them bring chuckles.. Multiplex theatre was 25% full for 5:30 pm show, which was shocking.. Online was showing 60% occupancy yesterday.

Another funny thing was that some of the people were still sitting in the movie hall after the movie was over, thinking that something more will happen.. BTW, the movie was only 1:45 min and that can be one of the reasons.

I think they should promote it as childrens movie and it may do ok.. Shreyas zibberish is stretched too far..
JOKER SYNOPSIS
How do you attract attention when nobody has any interest in listening to you? You draw crop circles! Agastya (Akshay Kumar) works at NASA under rather condescending superiors. He rushes home when his father is taken ill. On reaching home, he learns that it was all a plot contrived to get him to come back. Once there, he is distressed at the backwardness of his village, one that lacks electricity and water supply as well. He comes up with an idea to get his village back on the map.
JOKER REVIEW
Farah Khan, in an effort to promote her husband's second film, has been screaming herself hoarse about how "clean" and "family-friendly" Joker is - which may explain why Akshay and Sonakshi have not been a part of the promotions, and why the theatres are probably running less than half-full. It is believed that most of the people involved in the making of the movie, including the lead actors, were upset that Shirish Kunder had promised them a 3D film and changed his mind the last minute.

Whatever the controversies and publicity stunts, including the song "I Want To Fakht You" (....


JOKER STILLS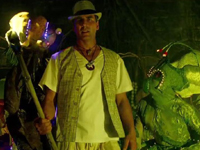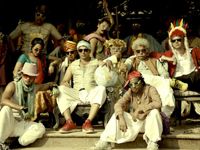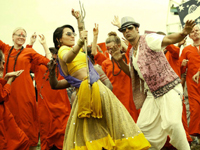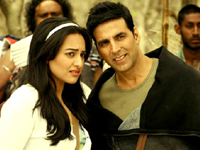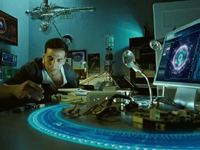 LEAVE A COMMENT
fullhyd.com has 700,000+ monthly visits. Tell Hyderabad what you feel about Joker, and then also see all
user reviews for Joker
!