Shanghai (Hindi)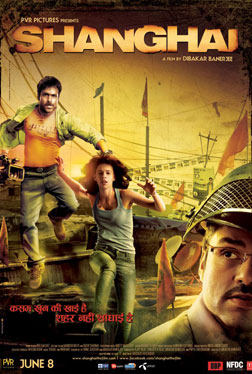 A still from Shanghai (Hindi)
Shanghai (Hindi), a
Hindi movie
, is not currently screening in Hyderabad.
Cast

Music

Director

Producer

Language

Genre

Release Date

Website

Add New Field:
LATEST COMMENT
Imran O Kazmi
on 22nd Jul 2012, 1:37am
|
Permalink
Loved it! who gives a f&&& what the box office said, the film ROCKS in every sense of the word, please see http://learningpays.wordpress.com and http://changepakistannow.wordpress.com very similar concepts - would LOVE to team up with you man! based in Dubai
SHANGHAI (HINDI) SYNOPSIS
A nameless Indian is governed by the coalition IBP, and the Chief Minister of the state leaves the running of her local affairs to Damle, who has a huge army of goons to carry out protest marches and to initiate riots. When social-activist-doctor Ali Ahmedi visits the city, he is run over by a vehicle. T A Krishnan, an IAS officer, is asked to head an enquiry into the incident.
SHANGHAI (HINDI) REVIEW
Renowned columnist Doug Larson once famously said, "Instead of giving politicians the keys to the city, it might be better to change the locks". And as filmmakers such as Dibakar Banerjee will remind you, it is time we understood why we need this change.

Based on a book named Z, by Greek writer and diplomat Vassilis Vassilikos (yes, the director acquired the rights), Shanghai is Dibakar Banerjee's attempt at a political thriller. The title of the movie is obviously inspired by the promises that politicians once made, to make Mumbai as modern as Shanghai. The story in the film....


SHANGHAI (HINDI) STILLS