Snow White And The Huntsman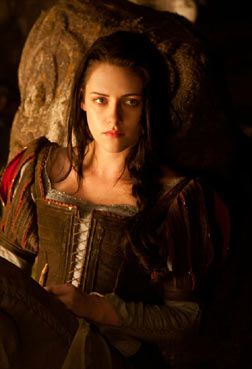 A still from Snow White And The Huntsman
Snow White And The Huntsman, an
English movie
, is not currently screening in Hyderabad.
Cast

Music

Director

Producer

Language

Genre

Release Date

Website

Add New Field:
Based on the classic fairy tale Snow White And The Seven Dwarves, Snow White And The Huntsman centres around the conflict between the ruthless Queen Ravenna and her step-daughter Snow White. When Ravenna's Magic Mirror tells her that she will be overthrown by Snow White, and also surpassed by her as the "Fairest of Them All", she decides to kill her. Snow White escapes into the Dark Forest, and the Queen then summons a Huntsman called Eric to kill her.
Snow White And The Huntsman starts off with a really promising take on the whole mythology, giving the evil queen a backstory, a motivation and a complex character. In this version, Queen Ravenna (Charlize Theron) is a woman wronged by a previous king, so she has no qualms about killing the present king and taking over his kingdom. She runs it using her powers to remain beautiful and immortal, a curse to her as she resents that a woman has to resort to them to command power.

The character has a strong motivation to be bad, and some complex psychological issues, playing the victim an....