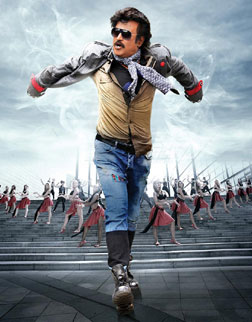 Lingaa, a
Telugu movie
, is not currently screening in any theatres in Hyderabad.
LATEST COMMENT
Dear Mr. Movie Lover, It seems that your knowledge about music is immature. If you think Mona Mona or Satyam Sivam as great songs, I doubt whether you know about the songs such "virinchini virachinchithini" sirivennela, takita tadhimi of sagara sangamam, omkara nadanusandhana of sankarabharanam, ye divilo virisina parijathamo of kanne vayasu, brundavanamadi andaridi of missamma, like that so many songs which we humm even when we sleep. Tell me one single song of Rehman which can match that category and people humm. You may like Rehman's music that is up to you. I don't think we can compare with him all time great music directors. So please don't generalize the statements. Personally I do not like Rehman's music. Initially I thought he is good, but when he murdered the Vandematharam song, I have lost total respect.
LINGAA REVIEW
While we at fullhyd.com do write reviews for movies, it is another thing to review phenomena. And that is what a Rajinikanth movie is - a phenomenon. The facts that this is a Rajini release after a 4-year hiatus, and that it has released on the star's 64th birthday, served to double expectations. And in the face of such high expectations, even the toughest crumble.

Yes, alas, even the mightiest of them all fails to stand tall. Lingaa is an attempt to make a blockbuster by putting in every Rajini cliché there is/was, while also sending out a social message and also adding two p....


LEAVE A COMMENT
fullhyd.com has 700,000+ monthly visits. Tell Hyderabad what you feel about Lingaa, and then also see all
user reviews for Lingaa
!
MOVIES THAT HAVE CROSSED 5 WEEKS IN HYDERABAD