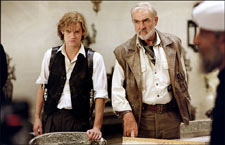 Question: What do you get when you cross
Star Wars Episode II - Attack of the Clones
with
The Lord of the Rings
and
Harry Potter - The Chamber of Secrets?
To diversify the gene pool a little further, take a few characters like Tom Sawyer (Shane West), Dr. Henry Jekyll (Jason Flemyng), and the alter ego, Mr. Hyde, of course - Captain Nemo (Naseeruddin Shah) - Mina Harker (Peta Wilson), Rodney Skinner (Tony Curran) - better known as the Invisible Man - and Dorian Gray (Stuart Townsend). Give them abilities that their creators never even imagined one day they would possess.
Answer: "The League of Extraordinary Gentlemen", and, might I add, a Lady. And that vital cog in the wheel is Allan Quatermain (Sean Connery):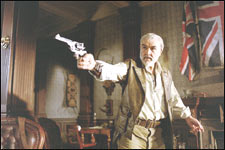 I'm an honorary Sean Connery, turned 73

There's only one of me Single-handedly saving the humanity

Ain't no chance of the production company dropping me

Press be asking do I care for my vanity I don't know, yeah, probably

I've been looking for getting on earth some sanity

Not some bird that looks like Billy Connolly

But for now I'm down for saving-the-world-ology

Grab your guns, come follow me...

(Good thing we are not famous enough for Kylie Minogue and Robbie Williams to sue for plagiarism.)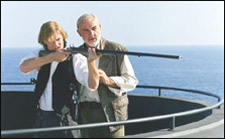 So, what does this League have to do? Simple. The world is under threat of a World War (the year is 1899), which is the handy work of The Phantom. Quatermain has been asked by M (Richard Roxburgh) - life is a full circle for some (seems like yesterday when Connery first played 007 in Dr. No) - to assemble this League and fight the menace.

As the name suggests, everything in the film is huge, and extravagant. Captain Nemo brings in a lot of Indian influence (and for once in a Hollywood film, 'Indian' does not mean of the American variety) - Goddess Kali, turbans, chandeliers et al.

Anyway, this Phantom is turning one country against another so that he can sell them his advanced weaponry (not unlike a Big Western Brother, may I say?). To tide over this crisis, the leaders of the world are to meet in Venice for a conference. Fearing that the Phantom will sabotage it, The League heads there, only to realise that it was a trap all along. The main idea was for the Phantom to acquire samples of the stuff that makes each character unique, and this he accomplishes with the help of Dorian Gray.

The League now heads for Mongolia where they finish off the bad guys in nothing less than a celestial fight. But, wait! Did you know who the Phantom actually turned out to be? It was M. Now we know why Her Majesty's British Empire needs a 007.

The film is not much different than what you would expect a comic book adaptation to be - larger than life characters, super cool heroes, snippy humorous interjects, great special effects, and amazing casting. What it lacks is innovation. I mean, how often have we seen a Government Agent asking a retired spy/hunter/marksman/cop/soldier/ explorer to save his country from disaster?

It proves that fiction writing is great in the sense that you can make up almost anything - solar-powered submarines, turbo-charged automobiles (in 1899), streets in Venice etc. - none of which makes any sense. But isn't that the difference between fiction and reality? Fiction is supposed to make sense.

If you are into films of this genre, watch it. If you are not, watch it to find out what you are otherwise not missing.