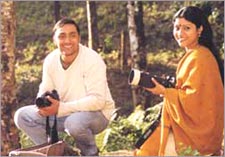 Human emotions never looked so beautiful; communalism never looked so hideous; and the tears on a woman's cheeks never looked so disturbing. If simple things in life start looking so touching and disturbing, as the case may be, it's courtesy director Aparna Sen.

It's after watching Mr & Mrs Iyer that your realize that a poignant movie can indeed be made using just the daily life props. Sen yanks off a handful of scenes from an average Indian bus journey, gives it the backdrop of a disturbing communal flare-up and blends in the slice of life to create this enthralling narrative that holds you at gun point. And you surrender yourself!

Sen maintains the minimalist, understated mood to convey her story of a young orthodox Tamil Brahmin girl and her nine-month-old son, and their rendezvous with a single Muslim bohemian photographer who hangs around to help them reach home safely. Meenakshi (Konkana) is off to Kolkata with her infant Santanam, and in the bus she bumps into an old acquaintance Raja, a photographer. Raja isn't too impressed by or interested in this sari-clad, mangalsutra-toting, XXL Shingar bindi-sporting mom, but humors her nevertheless. Thanks to his chivalry, he ends up holding the baby, literally.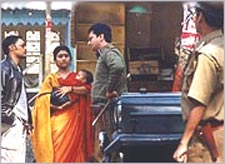 Meenakshi is rather impressed by this helpful gentleman who makes her journey pleasant by helping her handle the child. But things don't remain the same for long. A Hindu-Muslim communal riot has the Hindus are baying for the Muslims' blood.

One such mob bursts into the bus, and Raja fears his safety as he's a Muslim. Just when he is about to admit he is indeed one to save the entire bus from the mob, Meenakshi thrusts the baby in his arms and passes him off as Mr Iyer, 'Tamil brahmin'.

For a good part of the journey, Raja and Meenakshi put up this act of being a couple and that slowly crumbles the defenses between them. Caught between a curfew, a stranded bus, inclement weather and an uncertain future, the two cosy up to each other. They argue, throw tantrums, call each other names, and yet they bond, connect and relate to each other.

Just as they are about to cross the line of friendship, their journey comes to their end. So does the budding relationship. It's hard for Meenakshi to let go of this stranger to join her husband, but that's the way the cookie crumbles.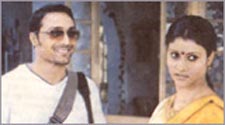 Aparna Sen could have taken the easy route by having a single girl for her heroine. But her forte lies in having a married woman, that too with a child, still falling for a man head over heels. It's not that Meenakshi is unfaithful or wants to have a fling. It's just about giving in to her basic instinct.

Symbolism is an integral part of the movie. Instead of showing the body of the old Muslim, the movie simply shows a pair of dentures and a broken set of glasses lying by the lake. Similarly, the cringe on Meenakshi's face when she realises she had water from Raja's jhoota bottle is enough to show her parishness.

Konkana Sen, a hardcore Bengali acts, talks and walks like a Tam-bram. Her accent ­ the baybe and the use of 'all that' ­ is just too good. Rahul Bose is so good in the movie that you actually wish Meenakshi was not married and instead hooked up with this guy. As a tacit and soft-spoken guy, Rahul is simply the best. No girl would mind getting caught in riots with a guy like that. However, the most adorable part of the movie is the infant Santanam.

Despite the stark theme, the vibrant music and the spot-on humor defuses the maudlin mood of the movie. Like Raja asking Meenakshi, "Isn't Santanam too formal a name for a baby?" Or the two of them lying dementedly about their so-called love marriage to a group of eager beavers to convince them they are indeed Mr and Mrs Iyer.

If an offbeat brilliant movie is what you've been looking for a while, Mr & Mrs Iyer is just up your alley.