The Hero kicks off with sadda Sunny in deep melancholy. Brooding over a certain missing Reshma, he reveals the heart-rending tale of his pitiable state to a co-passenger. The co-passenger, a sucker for the love schtick himself, avoids the obvious train of thoughts like "Sunny just won a gallantry award. He's perched comfortably in a stretch limo wearing a Versace tux. He's travelling through the most beautiful locales of Canada. Most people will not even get to do any let alone all of these in their entire pathetic lives. What's he groaning about now?" etc. And so with an eager co-passenger and a meager audience, the saga of spending the mega bucks begins (in case you still don't know, this is supposed to be India's most expensive film, costing Rs. 55 crores).

Arun Kumar (Sunny) is India's answer to Jack Ryan; he's our answer to James Bond; he's our answer to premature hair weaving! Loaded with such lofty labels, his next mission is monitoring the movements of ISI chief Isa Khan (Amrish Puri) and his jihad-headed sidekicks. Camped at the Sopore region in Kashmir near the LOC, he monitors more than required in the form of Reshma (Preity Zinta), a local beauty. Reshma even becomes an informer for Arun. But the romance is nipped in the bud when their engagement ceremony is bombed and she disappears.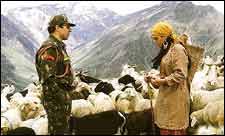 Kashmir, once the paradise on earth, appears to still hold that title, kudos to the cinematographer. The entire setup of the Indian Army looks mighty authentic with many state-of-the-art modus operandi generously swanked, which we presumed existed only in Hollywood spy flicks. The first genuine Indian avalanche also finds its way into a visually spectacular first half.

The second half leads us into the dark depths & valleys of Colorado - I am talking about the logic holes in the plot. The actual story meanders through the snowcapped peaks in Canada where Isa Khan is assembling a nuke with Kabir Bedi, a pharmacologist. Our disguised (hee! hee!) spy, following Isa Khan, traps Kabir Bedi's daughter (Priyanka Chopra) into marrying him & mingles with the bad guys to eventually bust their entire network. For a newcomer, Priyanka does not get onto our nerves - they never keep her on screen for that long. Meanwhile, Arun acquires all the contact names when his lid is blown and the heady climax begins.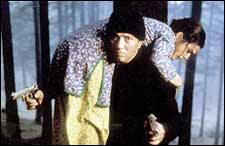 A B-52 stealth bomber and a nuke propeller can truly make a gripping climax. Since this flick doesn't have either, the climax's the biggest yech of it all. The subway-train routine worked only for Woody Harrelson & Wesley Snipes partner. The drama of Reshma's re-union with Arun is more absorbing than the soggy spy tale. But it's still not saving any grace.

Snowmobiles, war choppers, tons of TNT, subway trains, a foreign stunt director and his mandatory strings, Canadian mountain police, or even Godzilla will not help when some basic fundas aren't right. e. g. A character called Salman is Salman once and Solomon the next scene. Sheesh, even Laloo would object to that. Anyway, what the flick does have is good performances and a load full of anti-Pak trash talk:

"Jo ek galati karein woh insaan,

Jo do galati karein woh nadaan,

Jo teen galati karein woh shaitaan,

Jo galati pay galati karein woh Pakistan!

Aur jo galatiyon ko maaf karein, woh Hindustan.

Par Hindustan ab galitiyon ko maaf karna chod diya, Bang!"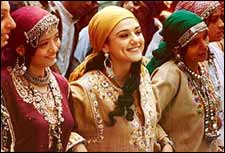 It also depicts the ISI chief to be a total imbecile that cannot recognise a top enemy agent when he glues on a simple moustache. Whatever the reason, Mr. Anil Sharma is certainly not living with the intention of outliving his friends in Pakistan; they vanished the day he got out of play school.

On the whole, it's definitely not evident where the fifty-five Khokhas were spent. Anyway, the lesson learnt is: Always make a movie: it lasts longer and is cleaner than the ashes you'd get if you simply burned huge wads of money! And yeah, you'll have quite a story to tell.