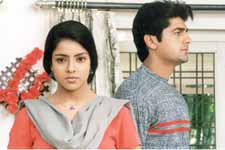 First, the good news. Tollywood can now boast of a woman director who can do a decent job. Next the bad news. Acute leukemia is back in the movies to mess up cute love stories. Now, the worst news. Kanulu Moosina Neevaye has more twists and turns than even Pavan Kalyan in a normal scene in his movies!

Dharani (debutant Archana) avoids guys and their romantic overtures like they were communicable diseases, and so when Akash (Deepak) loses his little heart to her - she sporting the clichéd look in track pants, loads of Maybelline strawberry lip gloss, Sunsilk hair, bunches of gladiolas and a bicycle - she calls in the cops and puts him behind bars for eve-teasing. So end of part 1: He hates her, she hates him too.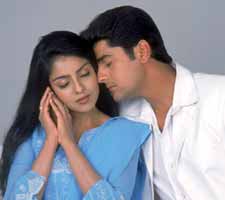 Akash however continues to claim that he is still in love with her. This time around, the girl flips for him and agrees to tie the knot. This is where the story gets naughty. Akash plays the runaway groom, saying that he was just trying to settle scores with Dharani. So the girl is left at the altar without the groom. So end of part 2: He hates her, she hates him too. Which is basically the same as the end of part 1, and therefore calls for a desperate bid to remedy the situation.

Now Akash is the hero of the movie, Tollywood heroes are always gentlemen, and gentlemen never betray their lovers. The fact of the matter is that chocolate boy is now suffering from the dreadful disease acute leukemia, and so all this drama to avoid the marriage. But soon enough the leukemia bit reaches the girl, and she comes running into his arms, promising to stay there forever. So end of part 3: He loves her, she loves him too. And there's already a new entry into the list of things you don't love - this flick.

To add to their woes, Akash suddenly loses all his fortune and needs Rs 10 lacs for surgery. So what's the way out? Enter Akash's humshakal Sagar (also played by Deepak for obvious reasons), and Dharani gets diabolical. She decides that killing him and passing him off for Akash will get her Rs 10 lacs in insurance money that she can use for Akash's surgery, and so starts wooing Sagar to get close to him and kill him. Real smart, na!

But the seemingly easy plan goes for a toss when Akash gets to know about his girl's plans. To make everybody's lives easier, he acts like Sagar himself... and yes, gets killed in order to save Dharani from becoming a cold-blooded murderer. This should've been the end of the movie, but is unfortunately only the end of part 4. Remember that twists and turns bit? So we plod on.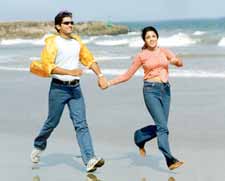 Now amidst all this drama, our girl actually flips for the happy-go-lucky Sagar. Methinks she went for Sagar when he once lovingly nicknamed her as 'chinky dory', something the boring Akash never did. Otherwise, there's nothing much in Sagar. Well, it's too late - Akash sacrifices himself to save his ladylove, and then Dharani and Sagar live wealthily ever after with the Rs 10 lacs.

If you're smart, you'd have guessed the storyline when I gave you the names of the characters. Dharani (earth) and Akash (sky), the twain can never meet. But Dharani (earth) and Sagar (ocean) can.

Manjula Naidu, a known name in television, is known for her twisty, twirly serials, but this flick has a tad too many to sustain interest. Telugu audiences, used to breezy and senti stories, may not buy this one. Good attempt, but tough luck. In a number or two, she does show some Yash Chopraisque visual imagery, though - flowing chiffons, greener than green backdrops, bluer than blue water etc. But no Swiss locales here. Good old Vizag and Araku valley.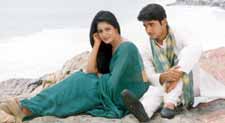 Except for two mass 'numbers', the rest - both lyrics and music - are decent by Tollywood standards. Chinni Navvu may just hit the chartbusters. It gives me jitters to think that one of these mass numbers may just make Deepak a star.

In this case, it's the 'stars' themselves who are the undoing for the star rating. Deepak looks like he can act, but only if he has a choice between death and acting. And when he does the latter, you may want to prefer the former for yourself. Archana's tear glands are always in a spate. When she is not crying, she is sniffing. So we can't really say if she can act.

Also a piece of advice here. Deepak and Archana should visit the nearest Anu's beauty clinic. Deepak to get his eyebrows threaded and Archana for liposuction and a nose job. Archana reminds us of Meena, but that's no consolation because Meena herself is nowhere in the scene.