Heist is different from your typical Hollywood offering, which usually suffers from one ailment: sick scripts. You can't remember their plots since they don't have any - it's just a lot of holes stitched together. Heist, though, is more slick than sick - fast paced, cleverly written and superbly enacted, it towers above the mundane. As fast paced thrillers go, it is not just life in the fast lane, it is life in the oncoming traffic, with lots of flashing lights and accidents aplenty. The entire experience is very much like 10 minutes in one of those virtual reality machines - you are left breathless and glowing at the end of it, although shaky on the 'how' and the 'why'.

While a lesser director would have been content to throw up a twist every 10 or so minutes, David Mamet tries hard to throw about 10 twists a minute, possibly because he has a twisted mind. Is this a twisted argument? As you can see, a lot of twists can become irritating once the initial charm wears off, and the movie suffers slightly because of this. You wish that he would let you catch your breath every once in a while, but that is a small price to pay for some wholesome entertainment.

So what does the story have, other than being full of bloody double-crosses and mind tricks that make Mamet's films a treat? Gene Hackman is aging thief Joe Moore, who, while leading his crew on a daring jewelry robbery, is accidentally photographed by security cameras. To make matters worse, his fence Bergman (Danny DeVito) reneges on him, and thus Moore is, quite literally, a poor old man. Poor enough to agree to a deal with Bergman.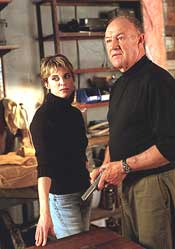 To wit, Moore will pull off "one last" job, much bigger in scope, for a larger portion of the cash. Sounds fishy, doesn't it? But what's a Mamet movie if you cannot smell a rodent? Straight enough so far, but wait till you add Moore's wife Fran (Rebecca Pidgeon) to the equation and have her set her sights on Bergman's nephew Jimmy (Sam Rockwell), who is the cautious Bergman's only inside man - there to make sure Joe doesn't make any sudden changes - and the waters become deep. Very interesting story, and very well directed. But now to the sore spots, the first being Rebecca Pidgeon. She has as much chance of a lasting career in acting as a pogo stick tester in a minefield. I was wondering how she got the role (that of a scheming wife) in the first place. A little "googling" on her name and it turns out that she's married to David Mamet... hmmmm. Rockwell comes across as one of those people who get in the way of their own happiness. Like a wise man once observed, "If it was raining kisses, he'd be the only person with an umbrella."

Take away those two, and there is plenty to cheer about in the movie. The dialogue has been cleverly crafted ("He's so cool that when he goes to sleep, sheep count him"), and enlivens the screen. As with all great dialogue, you have to have good delivery as well, and we certainly get that. There are no great stunts, multimillion-dollar special effects or people jumping around on wires in gravity-defying martial art moves. Just a convoluted tale, really well told and equally well acted for the most part.

The marketing spiel for this flick was that all roads would lead to "Heist". While all roads probably lead away from "Heist", people sometimes do walk the wrong way. And if you make such a mistake and stumble onto the movie, you will be in for a thoroughly entertaining couple of hours. Just be sure not to leave any fingerprints when you leave!