Austin Powers In Goldmember plays like a video companion for "The Complete Idiot's Guide To Movie Sequels". The first Powers flick (Austin Powers: International Man of Mystery) was pretty poor, and its sequel (Austin Powers: The Spy Who Shagged Me) was more than just a mere disappointment - it was a hideous, unfunny mess that ranks as one of the worst sequels ever made. Myers' latest trip to the recycling plant - the awkwardly titled Austin Powers In Goldmember - ends up somewhere between the first two.

The opening scene is fall-over hilarious, but there is precious little else. The remainder of the movie has the occasional amusing sight gag or bright line when you might actually find yourself starting not to hate it. Unfortunately, at such times, another attack of potty humor invariably intervenes to arouse a renewed sense of disgust. The movie always seems to return to its rubbishy roots.

The plot has Austin going head-to-head with Dr. Evil again - only, this time Evil has drafted in yet more evil supporting characters to freshen the palette. The most important is the eponymous Goldmember, a 1970s Dutch night club owner obsessed with gold and with a penchant for peeling off flakes of his dry skin and eating them. Yes. And Austin teams up with former flame Foxxy Cleopatra (Beyoncé Knowles) to rescue his father (Caine) who has been kidnapped by the Dutchman, and to save the world yet again.

Anyway, you could forgive the aimless plot as being unnecessary in a comedy like this. But you couldn't possibly forgive Myers' (and co-writer Michael McCullers') insistence on rehashing old gags again and again. When the writers aren't repeating old jokes, they're repeating new ones. The explanation of Goldmember's nickname is stated several times throughout the film's first half by different characters, even though it's the exact same joke. Most of the humor revolves around sexual innuendo and inappropriate behavior, poking a finger in the eye of contemporary taste in the name of a retro vibe which works well in small doses.

Michael Caine, as Austin's randy spy father, steals the show with a sly attitude and some clever dialogue. There's a pretty funny running gag in which Fred Savage has a large mole on his face. That's about all the needles of fun you can find in this otherwise yucky haystack.

Knowles reportedly did a lot of research for the part of Foxxy Cleopatra - watching blaxploitation movies and studying Foxxy's inspiration Pam Grier - all so she could utter a few lines like "You're under arrest, sugar!" or "Shazam!" She does all right with what she is given, and she is less vacuous than Heather Graham was in The Spy Who Shagged Me, but we could do with a little more intelligence in the female lead.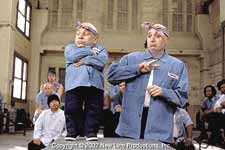 Fans will enjoy the movie because it is very much more of the same. Non-fans will not be converted because it is all very much more of the same. (One bonus star for showing Britney Spears' head exploding - all right, so it's just a movie, but I can dream, can't I?) Even though any gold in this edition of the franchise is mostly of the fools' variety, "Austin Powers In Goldmember" is one of those critic-proof sequels that will doubtless entice large numbers of fans into the theatres whatever the reviews might advise. Its wrap-up, incidentally, ensures that if - as seems likely - a fourth installment is planned, it will have to take a somewhat different tack than the first three. That, at least, is a blessing.