Chor Machaaye Shor Review
Performances
Script
Music/Soundtrack
Visuals
"Any resemblance to any intelligent life form - dead or alive - or any sensible idea - original or copied - is purely coincidental. My sincere thanks to the directors of Golmaal, Angoor and Blue Streak for their contribution to my cinema. Sincerely, Director No 1, David Dhawan."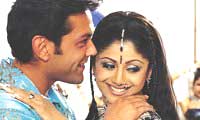 Dhawan deftly conveys the aforementioned using the first 21 reels of Chor Machaye Shor. He starts with the goal of making another Golmaal, but the result seems more like goal-maul. Watching Dhawan's version of Angoor-remixed is then about as exciting as watching a comatose langoor.

The director's attempts fall flat, but his hero and two-bit thief Sham (Bobby Deol) hits jackpot when he lays his hands on a 30 crore diamond. Before he can celebrate his success, however, the cops come marching down. But the smartass hides his booty at a vacant site so he can come back after two years and reclaim it.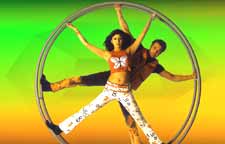 After the sentence, a shipshape Sham ambles down to the diamond spot only to have his senses socked. The vacant spot now houses the police headquarters. The only way out is in. So he dons the khaki and impersonates Inspector Ram. Smart cop Ajita (Bipasha) finds out the truth, but she won't say a word because she has a crush on Shamu.

Meanwhile, the chor's boss and DCP (Paresh Rawal) is so impressed with the new and handsome recruit, he even offers his daughter Kajol (Shilpa Shetty) to the eligible inspector. The only intelligent soul here is constable Pandey (Om Puri), who gets a whiff of the Ram-Sham scam and tries to blurt the truth out.

Ram concocts the story of having an evil twin brother Sham in order to save his face (literally too). So he seeks the help of a fake moustache. Hee haw, and all the schmucks around believe him. On the other side of the story are his three accomplices in the theft who are after him and their share of the booty.

Now, Sham's to-do list runs thus: Get diamond, marry DCP's beti, romance fellow colleague (Bipasha). From here it's a comedy of errors. Actually, more errors than comedy. Comedy includes Bobby trying to dance, Bipasha being a cop, Shekhar Suman as a transvestite and Shilpa sporting a weird wedge blunt hair-do (yikes!).

Bobby's go at the Govinda act goes for a toss. Since this is not an action film, Bobby sticks to inaction all the while. I can't comment on Bipasha and Shilpa because I yawned and I missed them.

It's Om Puri who takes the cake. As the smart cop, with his Bhojpuri accent, deadpan delivery and spot-on comedy timing, he simply rocks. Shekhar Suman, as Bobby's pal, appears in seven roles, but thankfully disappears before you can utter 'obnoxious'.

Except for the catchy Ishqan Ishqan number, the rest of the music is so awful that even the tinny version of Om Jai Jagadish Hare of car backing in the parking lot of the theater sounds like music to the ears.

David Dhawan hits rock bottom with Chor Macheye Shor. But then, as Garfield says: cheer up... it can't get worse than this. The only way his movies can go now is up.