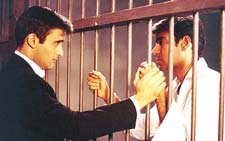 Deewangee is a copy of Primal Fear, the Richard Gere and Edward Norton movie of 1996. Try telling that to director Anees Bazmee who claims he "wrote" the movie, and he'll tell you, in true Bollywood style, that, well, it all depends on your definition of "copy", your definition of "Primal Fear" and your definition of "of". Just a little inspired, huh, Bazmee, old boy? And heck, who are we to talk - isn't our own review inspired by the movie in the first place?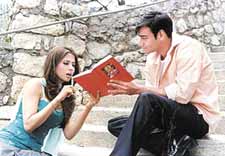 The film is the story of a playful psychopath - he plays with knives, guns and lives - and a young, tall, handsome, well-built, rich, single, super-successful, honest, courageous, heroic lawyer included basically to make sure you believe that statement in the beginning about all characters being fictitious. Taran (Ajay Devgan) doesn't like disputes involving his love Sargam (Urmila Matondkar), and solves them quite swiftly, though in rather questionable ways. One of them has him stabbing a music industry baron 56 times since the latter had tried to molest her, and the guy understandably dies.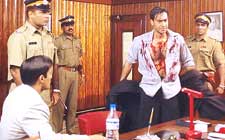 Unfortunately the cops get Taran red-handed, and Sargam, a top singer whose music teacher Taran is, enlists the support of the city's hottest lawyer Raj Goel (Akshaye Khanna) to prove him innocent. Raj bravely takes on the case since if he

doesn't Taran will hang, which would make this a rather pointless movie - I mean, the story would read "Man kills one, hanged", and while it can be argued that Hum Aapke Hain Kaun had an even smaller script ("Brothers wed sisters") and went on to become a hit, it's still of rather limited potential.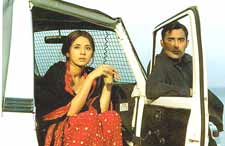 Anyway, Raj gets Taran's ass out of the slammer by establishing him as a split person for whom committing murders is just a state of mind. That is, it turns out that Taran is basically a docile person who's as exciting as a doorknob but not as brave, but who turns into a totally different brutal, bloody maniac whenever he's overly agitated, and then commits some murders and completely forgets about them.

Well, he can forget about it and the person he murdered can forget about it, but the law can't afford to, so they put him in a mental asylum. And after he returns, he decides to stake his claim for Sargam, who's already in love with Raj.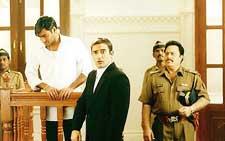 Ajay Devgan starts off looking like a guy who knows that it'll happen any time now but there's no way he can get to a loo in the next 1 hour, but slowly comes to terms with his role. You really miss Shah Rukh Khan. Akshaye Khanna makes you miss Ajay Devgan, even when Ajay Devgan is on screen. There's nothing remarkable about Khanna's performance except the fact that he is in full formals all through (and, we think, the same ones all through the movie, considering how Urmila spends most of the second half with Ajay Devgan and how desperately Devgan himself is running away from him - aw shucks, we all know how humid Mumbai is!).

Urmila as usual works hard to get noticed, which is made all the more difficult considering that she's not allowed to take any clothes off. You, er, miss Ram Gopal Varma. The music by Ismail Darbar is average. What helps the movie stand out is the script, albeit pre-used. Significantly different from normal Bollywood fare, it rivets your attention to the screen all through, even despite rather ordinary performances. The ploys and counter-ploys are a delight most of the times, and the tautness gets diluted only in an unimpressive climax.

On the whole, certainly worth your 35 bucks this weekend.