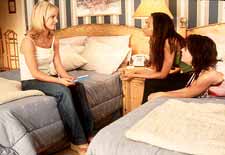 Egged on by countless people speculating endlessly on whether or not Spears has had a boob job, we lay bare the inner recesses of the Crossroads. Playing the valedictorian of her high school class, a bookish sort who's not very popular, Spears features in this tall story involving three babe-hood friends - Lucy (Spears herself), Kit (Zoe Saldana) and Mimi (Taryn Manning) - reconnecting on a road trip after having been spaced out in high school.

Lucy's a livewire roving across the country to find her mother, who without a care in the world left her when she was young (not when she was "not-a-girl-not-yet-a-woman" but when she was juvenile!). Whilst Kit is heading for some singing auditions and Mimi is going to pay a quick visit to her boyfriend who's not talking to her anymore.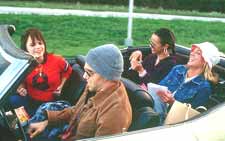 Avec toujours moi? Kay! Mimi's mysterious friend Ben (Anson Mount) agrees to take the girls on a road trip to Cali in his Buick convertible. They hit the highway, and just when everybody is thinking that all's well, the car breaks down and calls for the trio to spend their entire trip money to fix it.

Desperate to jack up some cash, the girls enter a karaoke contest, where Lucy bowls over the crowd with her rendition of "I Love Rock and Roll." All of a sudden, the once shy valedictorian has become a singing diva, exercising the moves of a veteran pop star. But wait, Lucy "is" Britney Spears, of course she can dance!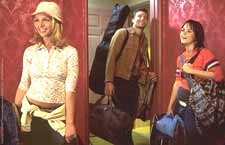 Thereon, the melodrama is piled on so thick that it becomes too difficult to emotionally identify individually with these characters. Lucy is somehow able to locate her mom but painfully learns that her mother has no desire to pursue a relationship with her. Kit learns her fiancé is sleeping with another woman and at the same time discovers he caused Mimi's unplanned pregnancy. And then Mimi falls down a flight of stairs and loses her baby! Ben, smitten by Lucy, starts composing music for her song... not-a-girl-not-yet-a-woman. Romance starts and the movie ends!

Crossroads weaves a long-drawn-out sappy melodrama with some passable music videos. Not one performance is the least bit convincing. Especially Britney's, whose attempts at drama garner quite some giggles and sneers from the audience. Boo Britney Boo!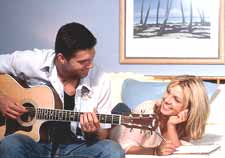 Perplexing it is by the way how Tamra Davis, who provided Hollywood with first-rate movies like "Billy Madison", could let a serious subject such as Mimi's pregnancy be treated as mere contrivance, a detour from Britney's supremacy. "Crossroads" is not a celluloid wreck of cosmic proportions (not at least when compared to the MC starrer "Glitter"), but at the same time it doesn't promise a rollercoaster ride either.

All's said and done, but the focal predicament still remains... way out being the supposition that "Britney does not belong on the silver screen"! Our sincere advice to Britney is to stick to what she does better (no, no best!) and leave the acting to professionals. Better thing being what she does it with Justin... er, I mean singing.