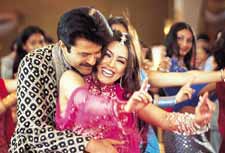 Jackie Shroff apparently refused to work in this one 'cos it wasn't called "Om Jai Jagadish Hare". The reason may not have been good enough, but the guy took one of the wisest career moves of his life. Anupam Kher gets into the director's seat, and comes out with a prayer for togetherness. He got the prayer part right. He sure must be praying hard. And as for Anil Kapoor, after facing 'inflation' in Badhaai Ho Badhaai, he takes up the bade bhaiyya role here, with Fardeen Khan and Abhishek Bachchan racing to fall at his feet. I need an insulin shot, pronto!

Om (Anil Kapoor), Jai (Fardeen Khan) and Jagdish (Abhishek Bachchan) are brothers with a common mom, played by Waheeda Rahman. Om's a PR whiz, Jai a mechanical whiz and Jagdish a computer whiz. Om gets married to Ayesha (Mahima), Jai to Neetu (Urmila) and Jagdish tries to dance along with Puja (Tara Sharma). They have an old house left by their dad, and many dreams, one of them of togetherness. And then the cracks develop.

Jai is lured back to America by his own dream of building the fastest car, helped along by his perfect b**** of a wife. Om is cheated by his boss and loses his house, which he unwittingly mortgaged. Jagdish is caught red-handed hacking into the university site. The rest is a story that deserves kudos for being as hackneyed as a story can get, incorporating every cliché one can think of. Just to make sure every each ghisa-pita line is covered, even the "subah ka bhoola" line is put in as an after-thought.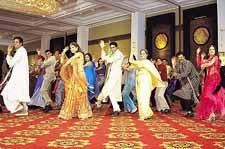 The movie, apart from being clichéd to the gills, suffers from some real amateur work. The direction, the editing and the cinematography all look really tacky. The songs are no big deal, maybe except for one inspirational piece that plays in the background while the brothers re-build their respective lives.

Anil Kapoor does okay, as long as you don't gag on the dialogues. Fardeen Khan is as confused as ever. Abhishek Bachchan for once is bearable enough, and actually does a good bit of comedy in one scene. Maybe he should move on from the hero slot.

The women don't do much, and Urmila manages to screw even that up. Waheeda Rahman does as good a teary-eyed job as any Bollywood mom could hope for. Nirupa Roy would have been proud to shed all that glycerin.

There are some points that may have redeemed a better movie. Every now and then there is a shot that makes you sit up and take notice. But the sentimental stuff that follows soon drives you back into that defensive cocoon you huddle into. But what really gets into your craw is that some of the technical execution is so shoddy, it wouldn't be approved for a Southie soft porn flick - especially in the first half. Anupam Kher needs to get back to his intolerable comic roles in those Yash Chopra and Yash Johar films ASAP. And as for the rest, we are praying for them.