Rishtey, without a shred of doubt, is one of the... er... most conventional Bollywood movies one would have ever seen. It tries to stuff in absolutely everything for everybody, not counting the daily supply of oodles of emotional to-do for the Bollywooders. Consequently, Rishtey ends up shredding its focus and the expectations of elite audience to shreds and pieces, and that explains why it deserves such a low rating, in spite of its brilliant performances and decent music, undercurrent.

The film showcases Suraj, who is absolutely crazy about his son (Karan) and wife (Komal), and who love him just as much... Seven years after Suraj and Komal have been separated, Komal reappears to "legally" reclaim her son. Yaspal Chaudhary, father of Komal and an immoral lawyer, tactfully maneuvers the court room judgment by highlighting Suraj's poor financial position as an inability to raise Karan properly. Accordingly, the court insists that Suraj show a deposit Rs. 15 lakhs to prove his financial stability lest the ruling be in favor of Komal, much to the disappointment of Suraj and Karan.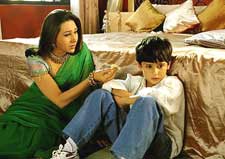 Suraj, already devastated at the loss of his wife, cannot stand to be separated from his son. Willing to make any sacrifice in order to reclaim his son, he re-enters the boxing ring, risking his own life. The film draws closer to climax as the things begin falling into place, and Komal learns that Yaspal was responsible for her misunderstanding Suraj. The movie ends with Yaspal begging for forgiveness and Suraj reuniting with Karan and Komal.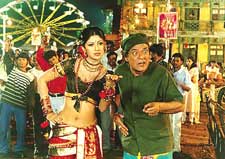 Suraj's devotion to his son as well as his wanting for nothing more than his son are beautifully enacted by Anil Kapoor, who delivers his lines with a splendid mixture of fear and anger. Karishma also receives good marks as a mother driven mad by all that's going on around her, and her scenes involving fits of anger and fright are hard-hitting and realistically acted.

On the opposite end of the spectrum, Amrish Puri portrays Yaspal Chaudhary's gradual breakdown with savage brutality, becoming more than just an ordinary movie villain. However, at the end of the day, Shilpa Shetty steals all the lime light with an excellent portrayal of an off beat character, an illiterate Maharashtran woman, who is in love with Suraj.

Emotions apart, there is a lesson to be learned from Rishtey. It shows how a judge, who knows nothing about the family and the life that the Suraj family had at home, makes a ruling that will change their lives forever. This should teach people that our court system doesn't always do the right things.

If you have a soft corner for conventional Bollywood films, Rishtey is right up your alley. But if you are looking for originality, I doubt you'll be impressed. In spite of everything, the actors do a reasonably good job, and there are moments of shining comedy, such as the kids' fighting scene (way to go!).