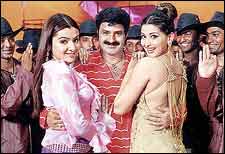 Now that
Indra
has become the highest-grosser of last year, Tollywood logic dictates that there have to be take-offs. In spite of the pitiful fact that Indra itself was made careening through several take-offs. So we have Palanati...with the same awry combo of leading ladies, the same music director, the same felon and the same set-up, but, with a God-awfully different outcome.
When the title says Brahmanaidu but the hero's called Bhavani Prasad, the first wave of shock runs through your spine: "If the hero is not Brahmanaidu, who is? Can a movie with a Nandamoori family member finally have a heroine-oriented title?" Soon the second wave of shock hits you: "What sort of a girl would be called Brahmanaidu? Would not she be called Brahmakka Naidu instead?".

Making our brains convolute thus, the director reveals that Bhavani Prasad (Balakrishna) is a living simile of the historical war hero of Palanadu, the legend Brahmanaidu. Hailing from the same pedigree as the great man, Bhavani Prasad continues the legacy of magnanimity and chivalry. And as history will have it, every great man has an equally redoubtable enemy. In this case, it's that baddie from the last seema flick, Mukesh Rishi, and another one from every seema flick, Jayprakash Reddy.

The first half has nothing substantial, except if you're looking to jibe about. The only significant events are:

a) Shruthi (Aarthi Agarwal) forcing Bhavani Prasad to fall off the cliff into the treacherous waters.
b) Shruthi forcing Bhavani Prasad to fall off into the depths of her love and then again into the treacherous waters - this time around, dancing
c) The two baddies deciding to fall off their brawny approach to vanquish Bhavani Prasad and replacing it with a brainy approach, by inducing Siva Nageshwari (Sonali Bendre)
d) Sonali Bendre again making us fall off our seats looking unbelievably gorgeous in her intro scene, and
e) The curtains falling off over the screen with Siva Nageshwari ruining the wedding of Bhavani Prasad and Shruthi.

(This is a new record on fullhyd.com for using the phrase 'fall off' these many times, without no apparent need for it. Hurrah!)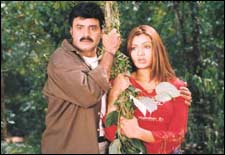 With the A-B-C-D's of the movie clear, one would feel dwindled out since there weren't many bloodcurdling seema trash-talk dialogues nor bum-shakin' music, both trademarks of a Balayya movie in recent times. But the second half is surprisingly all the rage that this sort of movie can get.

Siva Nageshwari settles in Bhavani's coop, enraging Shruthi and creating a perfect 'naari-naari naduma murari' effect. She's what Bon Jovi would call 'Angel smile on her lips but rugged nails on her finger tips.' The tug o' war between the ladies for the hero is amusing, mainly because you would not expect it in a seema cinema.

Anyway, Siva Nageshwari's story is that, because of her, Bhavani's supporter is rendered crippled. In order to cancel out the sin, he orders Siva Nageshwari to marry that handicapped person and serve him. But as fate would have it, and not to mention the script, that guy marries another dame and Siva Nageshwari is awarded Bhavani Prasad since he could not stand by his word.

The best scene of the movie would be at Siva Nageshwari's home where Bhavani belts out a series of terrific trashy dialogues. The story wriggles and squirms and finally reaches the climax. The climax is quite boisterous when Bhavani overcomes the bad guys with the same sword that Brahmanaidu used in the legendary war.

Mani Sharma disappoints except for one song, and perhaps this is the first time that Lawrence, as the choreographer, has also failed to impress. Sonali bagged a role that she'd be pleased about, and looking at her, there's only one thing any guy would feel: if God made anything better than her, he surely kept it to himself. As for Aarti, she looks cuddly. Mainly because she's the size of a bear.

The grand production values are thwarted upon us with some dramatic fowl (chicken! yes, you read it right, chicken - you have to see this to believe it and quickly forget it!) and locomotive sequences. And Balakrishna has done better in other films.

To end it, this is one of this year's most... recent films!