Hrudayanjali's theme can be summed up into four lines uttered by the female protagonist:

Oohalalo korikalu...

Cheruvalo chelikadu...

Rammani nannu pilichadu...

Raanani raalenani palikanu...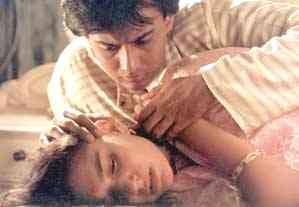 Get it? Hrudayanjali is a depressing and pathetic story of a frigid female... Maya (Girija). Normally I wouldn't bother with this type of artsy-fartsy independent film, but since it was a depressing psychological film, I knew all I had to do was survive it, which at 126 minutes was not easy, let me tell you. And by the time you read half the review, when all I would have done is describe the plot, everybody and his grandmother would think, "No way! Kiran is making it up!"

Ok now, let's get started with the story... The movie begins with an interview of a celebrated actor Anand (Sanjay Mitra) by Maya. It is one of those magical moments when love is in the air and sappy music starts playing.

For some instinctive reason, for Anand the interview transforms the otherwise bratty Maya into a lovely goddess. By the next frame, they both are in unfathomable love.

Anand notices that for some mysterious reason, Maya, in spite of being in deep love with him, is not ready to marry him. Whenever he proposes marriage, she says that she is not eligible to marry him. One fine day she gives in to his pestering and tells him the facts of her life.

It's flashback. Maya is 16 years old and gorgeous. Back from school, one day she sees her uncle waiting alone for her at home. She doesn't figure out the reason for his anxiety, but I do. I could almost see his loins burning with desire. That night he pretty much forcibly bones her to his content, and in so doing embosses a cavernous scar in her mind.

Like any other broadminded freak would do, Anand offers to marry her. They marry. Then what? Then there is a series of letdowns for Anand, since Maya will not let him have her (why? remember the scar?). One fine day, after a major letdown, unable to bear the depression of not being able to offer herself to her lover-cum-husband, Maya commits suicide. THE END - of 1. Maya 2. The movie, and 3. My destitution.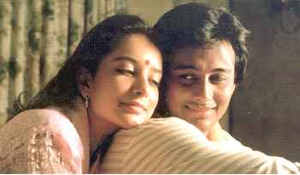 Conclusion? You enter the theater hoping to see a jolly good movie that would rival Geetanjali. Instead, you find a film with its characters so uni-dimensional, you would think they were made from card and a screenplay so unpredictable that even a

cine pundit can't and won't guess what would happen next.

Mediocre would be a superlative to describe Girija's performance. Inaccuracies in performances were glaring and downright insulting. Anyone expecting a good movie with a good dose of accomplished action should stay away.

Bottom line? If Hrudayanjali had meant "the desire to move to a remote island with a bottle of cyanide as your only friend", the movie fits the bill and succeeds beyond all expectation.