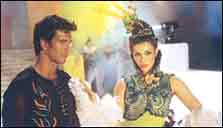 Oh, the wonders new blood can do for the Indian cricket team, and for the Indian film industry! At a time when these big banners are doing nothing but making the same films with the same insipid wafer-thin storylines, it is this young generation that manages to often pull the proverbial rabbit out of the hat. Now, if only that were the case with Indian politics!

Okay, 'Rules - (Pyar Ka Superhit Formula)' also has a wafer-thin storyline, but there is this freshness about it, this youthful cherubness, this feel-good cheerfulness, this go-with-the-flow humor and this you-don't-have-to-use-your-mind-while-watching-the-film treatment that it gets catapulted to the better-than-a-good-movie slot (and that is more than what can be said for Indian politics). Yes, the basic concept behind the film appears ridiculous and inconceivable (not unlike Indian politics). However, the way the film is worked around it, you are willing to accept that premise.

Ever since she was 14, Radha (Meera Vasudevan), a photographer, loves Vikram Verma (Milind Soman), a model. The agency she works for has been contracted to do a photo-shoot with Vikram and Maggie (Namrata Barua), Vikram's girlfriend. Now, Radha's sentiments are truly aroused and she becomes a self-pitying soul. That is when her Dadi (Tanuja - looking as charming as ever) comes to her rescue and introduces her to the five basic rules of attraction.

These are the same basic rules that most girls religiously follow and most guys claim to despise - like ignore the guy, play hard to get, be mysterious, don't let him know he has the power to hurt you, and sing his eulogies - but at the same time find them a turn-on.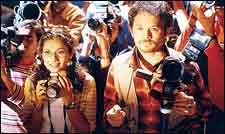 So, as the game progresses, they progressively fall in love. When Vikram finally tells her those three words that she had been waiting to hear from him all her life since she was 14, she suddenly runs out on him, being hit by a pang of consciousness for having manipulated him into falling in love with her. However, after a few clichéd sequences they get back together, and it is this that has robbed the film of half a star more in the ratings.

What works really well in the film's favour is its length of about two hours. The songs may actually get me to invest in a Hindi film CD after what seems like eons. Purists will not appreciate the constant entry and exit of jester-like characters every once so often or the flashing of a signboard before Radha is introduced to a new rule. But, it is this bold innovation that has provided those hilarious moments, so much so that you might need to clutch at your stomach occasionally.
Meera Vasudevan tries hard to bring some credence to her role, but she still is very raw. In any case, if performances mattered at the box-office, how do you explain the three hits (
KNPH
,
Gadar
,
Humraaz
) that Amisha Patel has managed to deliver? What does really stick out as a sore thumb, though, is Namrata Barua. The woman is gorgeously sexy - but only as long as she does not speak.
In a way, it is a Bollywood chick flick. But, it is one that both the sexes can equally enjoy watching. We know we did, and that has nothing to do with the fact that more than half the audience comprised beautiful young women. Honest!