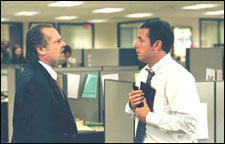 What is the funniest movie you've watched in the recent past? Chances are your answer will remain the same even after you watch Anger Management, but you will have had a good time since. Not because this is a good movie - we wouldn't want you to get that impression. But because you'll expect it to be a lot worse.

What you get instead of a cliché-ridden washed-up story that's unamusing, is a cliché-ridden washed-up story that's funny in parts. Not in big parts, but enough to surprise you into the odd guffaw.

The casting, for one, is perfect. Except for Adam Sandler, who annoys unceasingly. But at least he does it on his own time, which thankfully is not much. The movie belongs completely to the deliciously diabolical Jack Nicholson, who, after his role in As Good As It Gets, keeps the fun alive and kicking in dysfunctional.

Dave Buznik (Sandler) is a doormat that's ticking. Submissive, repressive and angry as hell, Buznik is an explosion waiting to happen - or at least this is what they'll have you believe. After you've watched him snivel about for a couple of minutes, you begin to think an explosion would be an improvement. A coma would be an improvement. Being steamrolled into a concrete wall would be... you get the idea.

Buznik manages to drive his girlfriend (Marisa Tomei, who is totally wasted - both on him and in this film) up the wall with his jealously and obsession, so she decides to get help. And this is where the good doctor steps in.

Dr. Buddy Rydell (Nicholson) has a simple technique of managing anger - he provokes it incessantly. Nicholson is tailor-made for this role and he plays Dr. Buddy (tagline: Know Buddy Cares) like he's having the best time of his life doing it. You can't help but join in.

Buznik isn't the happiest man in the world for landing up in therapy with Buddy boy, but the alternative is going to prison for not keeping his temper in check. However, after a few days of intensive therapy, that involves sharing his bed with a naked doctor and having to sing 'I'm so pretty' in the middle of a traffic snarl, prison starts to look good to Buznik.

Apart from taking over his life completely, Buddy also introduces him to his anger allies class, that includes a giggly and hysterical lesbian couple from the "adult-entertainment industry" and a hilarious cameo by John McEnroe (awfully sporting of him). The therapy group is perhaps the best idea in the script. Also the funniest. Other real life hot-heads that make a cameo appearance are New York Yankee Roger Clemens and college basketball coach Bobby Knight. Not to mention, an entry at the climax by New York mayor Rudy Gulliani.

In fact, except for the lead pair, everyone else in the movie seems to have only a brief and prefunctory role to play, and it's not clear why they even bothered to show up. Except of course, to act as props, and not especially funny ones at that.

Oh yes, we were taking you through the story, weren't we? So Buddy forces Buznik to face all his demons, including a Buddhist monk who kicked him around in school and a gorgeous girl at the bar (Heather Graham). And when he thinks his patient is finally ready for the next level, Nicholson steals his girlfriend.

But it all turns out fine, and after a mandatory Hollywood declaration of love over Yankee stadium speakers, the couple is reunited and the doctor walks triumphantly into the sunset.

And you yawn and stretch and think, I've seen worse.