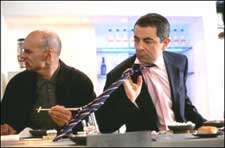 Movies are like days - you have good ones, you have bad ones, you have in-between ones and some you wish you'd never had. And then there are ones where you know you had a great time, but can't quite remember what it was all about. Johnny English is that kind.

The spy spoof has been done to death (Top Secret, The Man Who Knew Too Little) and suffered a fate considerably worse during the Naked Gun series. But it's been a long while since the last one and this might be just what MI-7 ordered.

Johnny English (Rowan Atkinson) is the spy-in-waiting at MI-7 (yes, 7!) and his talents are likely to keep him there for many, many years to come. But that doesn't keep him from practicing, and he's bumped up to top dog position when his bungling wipes out everyone ahead of him in the line.

He's ably assisted by his astute sidekick Boff, who is learning some much worn ropes from English. The Queen's Jewels are stolen from under their noses, and smaaaart baaay Johnny figures out that the bad boy is filthy rich Frenchman Pascal Sauvage (John Malkovich with a really bad French accent). Sauvage figures that he's next in line to be king (some family ancestry blah blah), so he jing jangs the jewels and hatches his masterplan. Eehahahaha (wicked laughter)!

During the customary parties (ever seen a spy movie without one?), Mr. English comes across the stunning Lorna Campbell (Natalie Imbruglia), who naturally attracts suspicion by being in all the wrong places at the wrong times. JE and Boff, after some hilarious capers including tearing around London after a funeral hearse, try to infiltrate Sauvage's towering office building, leading to further cock-ups and hilarity.

JE eventually gets fired for his antics but finds some heat after Ms Campbell blows (oooh... aaah... easy now...) on the embers. Matters come to a head, quite literally, at the lovely Canterbury Cathedral with the words "I now pronounce you..." ...But I really don't want to spoil it for you. Trust me, it's funny.

Of course, the above 200 words are just a whole load of, well, space filler, because, as we all know, spy movies have no story! It's all just a one-liner, really. But your enjoyment depends a lot on how funny you think Rowan Atkinson is. A little known fact is that he is, in real life, acknowledged as one of the most intelligent men in Britain along with another famous comedian Ali G (Bling Bling). He's also the star of the downright funny television series Black Adder and Bean. And I personally think he's bloody funny.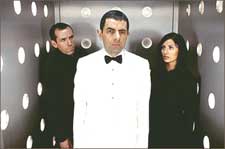 Johnny English is a mixture of Brit humor and plain, simple, physical comedy. Atkinson is a master of both, and if you miss the subtle humor in the dialogue, he's keeping the audience a dentist's dream with his antics. He also pretty much directs himself, so the screenplay is smooth and situations blend into each other very well, with the result that you don't get bored.

The one glaring glitch is that John Malkovich is hopelessly miscast. His orribahl obviously put-on accent belies the guy's immense talent. Natalie Imbruglia does a good job and avoids newcomer hamming.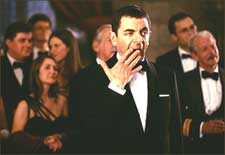 If a good comedian's expressions are enough to crack you up, this is the movie for you. You must, of course, not analyze the story in too much detail. It's a comedy, dude. And the rating is simply because we have a severe shortage of movies these days where you leave the theater feeling strangely good and healthy. Laughter still is the best medicine, what? And judging by the audience reaction in the hall, lots of people were getting treated. And when was the last time you had a good laugh, eh? Tea and crumpets with the Queen and all that. Jolly Good Show, Sah. And take a date. It works...!