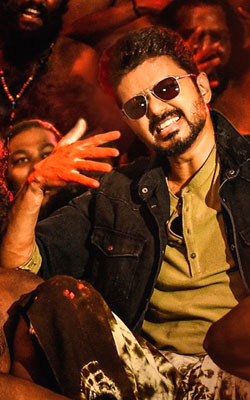 Whistle, a
Telugu movie
, is not currently screening in any theatres in Hyderabad.
LATEST COMMENT
TJ Reddy
on 27th Oct 2019, 6:45am
|
Permalink
If he was a footballer, I am quite happy for him. But we are talking about his current day fitness, not to shame his body because I know I'm not perfect, but he wouldn't be coming close to a national side.

But that is just the least of this film's horrid footballing. The mannequin challenge shots, the constant overhead kicks, the literal lack of plays being created, so many more things that simple rainbow flicks can't cover up for.

P.S. - Jada looks real good. I'm happy to see Kathir leading a film again.
WHISTLE REVIEW
For the longest time, Tamil cinema has had star rivalries. Be it Simbu v Dhanush, Suriya v Vikram, Rajnikanth v Kamal Haasan, MGR v Sivaji or Ajith v Vijay, star rivalries have helped keep Kollywood churn out some massive hits and equally massive duds, year after year. Back in the MGR v Sivaji days, fans in either camp were avid watchers of the other star's films. They would diligently take note of what their rival star's films were doing and demand better from their stars in the spirit of healthy competition. With Whistle/Bigil, the actor-director combo of Vijay-Atlee seems to be sending a lo....


LEAVE A COMMENT
fullhyd.com has 700,000+ monthly visits. Tell Hyderabad what you feel about Whistle, and then also see all
user reviews for Whistle
!
MOVIES THAT HAVE CROSSED 5 WEEKS IN HYDERABAD