Ashok (Suresh Gopi) Review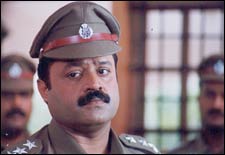 Performances
Script
Music/Soundtrack
Visuals
What do you do when you are bored? You make a movie that bores others. This one is a non-stop action movie that will drive you up the wall - two and a half-hours of violence and loud dialogues. The storyline is very predictable and commonplace. The movie is a mixture of all the masala action films to date. It surely must take guts to take so stale a theme and make a movie out of it, and also a total lack of compassion for the viewers to actually screen it. Ashok is one movie that you will always remember for the scar it leaves on your psyche.

Ashok is (Suresh Gopi) a hotheaded, courageous police officer, who single handedly fights the criminal elements of our society. His total lack of respect for authority does get him into a lot of trouble, and his passion for righting the wrong earns him a lot of enemies. How he solves these problems and gets rid of his enemies is the story of this absurd movie.

Mafia dons, terrorists, corrupt officials and savage dogs, this flick has them all. Ashok's fists solve all his problems. Action, action and more action till the movie ends. The audio is ear shattering - the volume is increased for even the slightest movement made by our hero. There are no songs, which is heart breaking as one does not get a much-needed break from the never-ending saga of violence. This is a movie for the bored and the hearing impaired.


ASHOK (SURESH GOPI) SNAPSHOT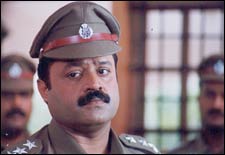 LEAVE A COMMENT
fullhyd.com has 700,000+ monthly visits. Tell Hyderabad what you feel about Ashok (Suresh Gopi)!