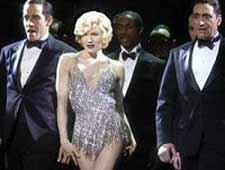 Seldom would you get a chance to see a reflection of theater so bright and clear on screen. Chicago radiates the Broadway glory in a story about the on-and-off reality of success and failure people go through. Captured on reel, this theatrical delight seems so much better in film - you could almost call it the best.

Roxie Hart (Rene Zellweger) is a wannabe cabaret singer who lands in prison facing a public hanging for the murder of her 'lying' lover. She manages to rope in Billy Flynn (Richard Gere) for her case, by bribing the prison warden "Momma" Morton (Queen Latifah). Flynn is a criminal lawyer who has never lost a case. Murder to him is a form of entertainment and he has proved his prowess in running the stage.

Velma Kelly (Catherine Zeta Jones) is a popular cabaret singer who lands in prison for reasons none more the same as those of Roxie. She is a gorgeous, proud and an arrogant young lady who (thanks to Flynn) is cherishing the spotlight in the show business right now. For the moment, she is also an unfriendly bitch for Roxie.

Soon after taking Roxie's case, Flynn starts to turn the wheels real fast for her freedom, turning her from infamous to famous. With all the attention and publicity Flynn rakes in for Roxie, she turns out being a celebrity. She gets so consumed with her popularity that she forgets who is running the show. Soon after, her thoughtless actions and speech take her back to square one.

Once Velma looses her popularity to Roxie, she softens, humbles, and tries to make friends with her. But Roxie is at her peak of popularity then. It's only when Roxie starts losing her popularity to someone else that she reaches at the same intersection that Velma is at, to observe they both had the same facts to face. They are left with no options than to work out their differences and help each other, and in return help themselves.

What happens next is what decides the fate of Roxie and Velma. Billy Flynn has a lot to give from here on. There is an astounding and unbelievable tap dancing performance by Flynn to follow. There is a lot to more to say, but if you feel you need to see this movie you ought to have something left to find out on your own.

The other important man besides Billy Flynn is Roxie's husband. He has this undying devotion and love for his wife that makes him even take the blame for the murder she committed. He makes a few brief appearances at places finance comes to play, reinstating once again the fact about what women really need from men. You might find this loser to be the only winner, even with all the loss. He has given all that can be desired for a role like his.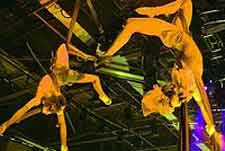 The biggest winner is director Rob Marshall, who is hugely successful in bringing out all the passions of theater onto a film, and sustaining them throughout the movie with such delicacy. The added advantage of a moving camera, and the smooth and swift transitions of the scenes, demand the interest and attention of the viewer to keep up with the plot and the characters, eager to listen to every word that follows and every move they make.

The music and choreography complement each other. You would find it hard to restrain yourself from tapping your legs and stomping your feet for long. Overall, the 'movie' is as nice and windy as the 'city'!