Name: Zayed Khan

Hero Sanjay Khan's son since childhood

Bees saal baad: Member, Team Chura Liya

Technical details: Can go from shirt to topless in 30 seconds. Macho male machine that can run at 80 kmph for girlfriend. Zero fuel needed. Throws surprises by sporting three different personas in two and half hours.

Name: Esha Deol

Heroine Hema Malini's daughter since childhood

Bees saal baad: Member, Team Chura Liya... Still trying to gain a foothold in Bollywood.

Technical details: Ask no questions - answers 'pata nahin' to all posers, and can sport cute clueless expression for two-and-half-hours non-stop.

Name: Charade in Hollywood

Thriller since the Audrey Hepburn days

Bees saal baad: Chura Liya Hai Tumne in Bollywood

Technical details: Thriller movie with novel plot. Average cast, screenplay and botchy editing. Extra soporific effect in the form of three mediocre songs for your sleeping comfort.

If you thought I have chura liya hai the intro from a popular bike ad, well, yes, guilty as charged. For starters, Chura Liya Hai Tumne itself is a plagiarized version of a Hollywood thriller, only a lot less taut and with a lot less thought. But all things considered, this one is definitely a different launch pad for a star son and relaunch for a star daughter. But alas, like a bike without fuel, it just fails take off anywhere.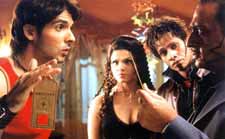 Tina (Esha) belongs to the 'excuse-me-what-happened-here' genre of girls, and her life becomes even more complicated when she lands in Thai to meet her uncle but finds out he is dead and that three thugs are after her life for a secret worth Rs. 10 .crore. Those stupid thugs think Tina knows where Tony hid the money that the gang decided to share after committing a bank robbery. But this fella dies before he can tell the secret, and so they suspect Tina. The first half of the movie meanders aimlessly just to establish this.

Tina is constantly harassed about the secret that she doesn't know. To add insult to Tina's injured IQ enters Vijay alias Yogi alias CBI agent (Zayed). He first tells her that he loves her and so he's followed her to Thai. Then he tells her that he too is part of the bad gang to get the Rs. 10 crore. Soon after he tells her he's actually on Tina's side and taking revenge on them. And then...oh okay, whatever.

Those unnecessary songs and red herrings, instead of creating the suspense, rob the movie of its slickness. Anyway, in the last one minute, Tina manages to get hold of the Rs. 10 crore which was always with her in the form of an antique coin.