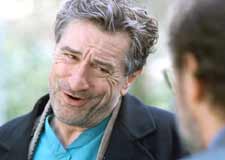 There's a real sense of been there, analyzed that to Robert De Niro, Billy Crystal and Harold Ramis' second mobster-in-therapy comedy. You know how it is with therapy: sometimes you have to revisit certain issues and see your analyst for a few weeks. And you know how it is with hit movies: sometimes you have to revisit certain cash cows and write a sequel for a few weeks. So it is with "Analyze That," an amiable and occasionally laugh-out-loud follow-up to the 1999 hit "Analyze This".

This return outing is funny enough - not so hilarious as to send us to the laughing academy, maybe, but whacked out enough to matter. As reheated leftovers go, "Analyze That" will provide a handful of broad, cheap laughs for those who relished the original and just want a second session of De Niro mocking De Niro and Crystal being Crystal.

As the story opens, we find mob boss Paul Vitti (Robert De Niro) still serving time in the big house. When it becomes clear that someone is trying to put the kibosh on him, he seems to have a mental breakdown, alternating between periods of catatonic silence and rousing renditions of West Side Story songs. Vitti's former psychotherapist, Dr. Ben Sobel (Billy Crystal), is called in to evaluate the rattled inmate and concludes that he is suffering from temporary insanity. Vitti is released into Sobel's custody for treatment, but quickly returns to his criminal roots - in no time, he's in the middle of a feud between the Families and bringing his reluctant shrink along for the wacky ride.

There's less crying in this installment of the Bobby/Billy mob circus, but still too many moments of touchy-feely, psychological garbage. Sobel scavenges around in Vitti's mind and once again drudges up issues about his father that are far too sentimental. The story sucks, though, and pretty much any scene involving Cathy Moriarty feels dead. Not sure why. The film's editing also seems pretty choppy (and I rarely notice those types of things).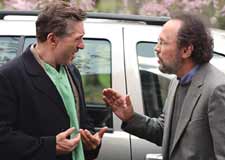 "Analyze That" manages to entertain in parts, however. The cast is obviously having fun and they don't mind letting the audience in on the joke, without any overt nod-nod, wink-winks. Robert De Niro and Billy Crystal fire on all cylinders, once again working surprisingly well off of each other despite their diametrically opposed acting styles. Everything between these two on-screen feels natural, comfortable and familiar. It's fun to see De Niro down from his pedestal and making himself the butt end of the jokes. By playing a tough guy role and having the jokes at his expense, it allows him to poke fun at his own mystique.

Another good thing is that Lisa Kudrow is barely used (thank you, God... there's only so much of her damn Phoebe character that I can take in any movie) and Anthony LaPaglia is decent as the Australian-Italian guy.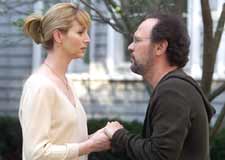 It's when "Analyze That" steps away from its look-at-me showy stuff and back into some semblance of a caper movie that things get dull, and that happens for much of the third act. Better that the film keep admitting its fakery than try too hard to be something real. That's not the way you usually want things in movies - that kind of anti-realism - but these two films are different, and all in all, it is still worth a look in, so, well, analyze that.