"Hi there Cyrus, Malaika and MTV Loveline! It's me, Preity from Bollywood. I'm caught up in a grave love dilemma. There are four people involved in my love parallelogram. Hunky dude Arjun, my cute sister Mahima, my khadoos foster Mom Rekha, and me. Please listen to this carefully. A loves me, but me loves Re more. Re loves M and wants A to love M. But I don't care who loves whom as long as Mom Re loves me. Do ya get this?"

Where Loveline fails, Kundan Shah steps in to make Dil Hai Tumhare. He tackles the familiar story of two sisters falling for the same guy, adds the new dimension of a discriminating mom, and voila! We have a flick that challenges your spirit by subconsciously saying, "Will hai tumhara."

DHT has a storyline similar to Shekhar Kapoor's Masoom in which an illegitimate child pines for its stepmom's love. But while Masoom stays behind as one of the masterpieces of Bollywood, DHT just stays behind.

Shalu (Preity Zinta) has everything in life - a funky sports watch, cute Tweety Bird T-shirts and floral capris - except her mom's (Sarita, played by Rekha) love. That's because Shalu happens to be the illegitimate child of Sarita's husband. Sarita is forced to bring up Shalu along with her own child Nimmi (Mahima) in order to honor her dead husband's word. And even though Sarita plays foster mom to Shalu, she discriminates against the child. So Shalu is always left longing for attention and love from her mom.

Shalu is a bubbly, naughty girl or a repulsive, obnoxious brat depending on which side of the prank you fall on. Her idea of a hilarious prank is chasing away guests by giving them Bhelpuris filled with chilli powder or masquerading as the MD of an MNC and calling everybody names. Incidentally, Shalu thinks she can get her mom's attention by doing such things but it always backfires.

After half a dozen of her pranks, Dev (Arjun Rampal), her boss at Khanna Industries, falls head over heels for Shalu. On a parallel track, Nimmi (Mahima) too falls for Dev. And also, Bollywood celebrates the 100th anniversary of 'girl falls into guy's arms and love happens' scene with this flick.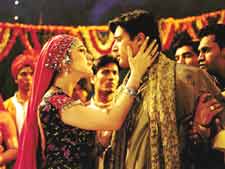 Shalu wants to marry Dev, but realizes that Nimmi too is in love with him. More importantly, she would be incurring the wrath of her mom if Nimmi were denied her love. So Shalu decides to sacrifice her love for her mom and sis.

It's a Preity show from the word go to the logo. She manages to stand out and come up trumps even in a dud like this one. She rocks in the climax number where she dresses up as a puppet. You'd have expected the legendary Rekha to steal the thunder from under the nose of the younger crop, but as a nagging mom and a plaintive widow, her role is less exciting than a stale vegetable roll. Mahima looks blissful, because she is ignorant of the goings-on in the movie.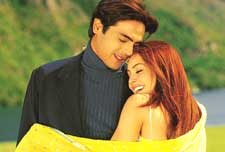 For all practical purposes, Arjun Rampal should only be seen, not heard. The only time he is tolerable is when Kumar Sanu lends him the playback. In fact, the songs serve as a breather in the movie. There are at least three hummable songs thanks to Nadeem-Shravan, and that could be the only reason that could lure regular cine-goers.

Watch the countdown shows and get your music. But watch the movie only if you have lots of bad karma to burn off.