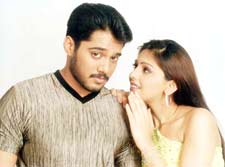 Two much is too bad. Exactly our point too! 2Much is too bad. And if you think that dismissing the movie as bad is unfair, we give you the chance to pick a synonym: awful, appalling, shocking, terrible, ghastly etc. But hang on, first read, then decide. Everybody will get a chance!

The first 2Much blow comes during the credits. Story, dialogues, screenplay, editing, music and direction by Veeru K! Even a talented director feels fagged out just handling direction. Only a 2Much (sic) talented dude like him can carry off a movie. Or so you think. Gee, wait till the end.

The second blow is in the form of Raasi. If she puts on any more weight, she will be mistaken for a planet. She is the only heavyweight in the movie, and throughout you wish it were a 70mm theater to make things more comfortable for the viewer. Guess, that's asking for 2Much.

The third blow is in the collective form of a rag bag of dirty gags. Ribald double entendres, crude remarks about the human anatomy and obnoxious references to sex (we cannot justify these comments because that would mean writing unprintables here)... In short, even those who enjoy ribaldry are bound to feel squeamish watching 2Much. The response was evident from the audience. They laughed when there was a good one, and frowned at a sick one. But alas, the good ones too got lost in this one, like raisins in a rancid cake.

The final blow is Bullabbai (Bala Kumar, whoever he is) who thinks the best way to get married to a girl is to rape her. His friends discuss the whole plan so elaborately that you don't have to be surprised if you find a new report 'Youth derives inspiration from movie, rapes girl' in a local daily soon. The word 'rape' is bandied about so insensitively, it's like they are discussing about tomorrow.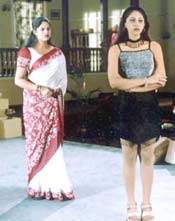 Bullabbai is in love with Sita (Chitra Mehta) and since she never reciprocates his love, he decides to physically assault her so that she has no option but to marry him. But due a gap of communication, he ends up doing it with Sita's sister Gita (Raasi). The rest of the film deals with Bullabbai trying to keep up his love with Sita, and at the same time to undo his sin with Gita.
The musick is essentially a parody of the current hit numbers. Again, the movie does not spare its efforts here too. Repulsive lyrics in the otherwise good numbers once again put you off. The director really has some cheek to mention music in his credits while all that he does is recycle the top ten songs.
The only 'breath easy' moments are when Brahmanandam and Ali discuss about their book that coins new meanings to existing words. Surya (of
Show
fame) too manages to evoke a few laughs in the role of a psychotic lover.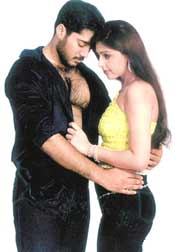 The movie is so appalling that the lead cast's (Bala and Chitra) lack of talent is simply too trivial to notice. If they have any vague dreams of making it big, they need to watch 2Much at least thrice. That could help their unlearning curve.

By the way, the credits open rather innovatively. Instead of saying music, playback, producer etc., it says: paata, kootha, daatha etc. We have more suggestions: motha, rotha, tala raatha etc.

In a nutshell, the film proves the law that 'If anything can go wrong, it will'. Too bad, we are at the receiving end of 2Much!