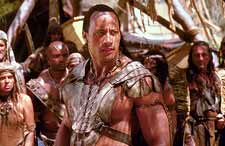 Guts, gore and glory - this flick claims to have 'em all. The Scorpion King, if you remember, was depicted as an ancient day Faust in that forgettable movie
The Mummy Returns
, having sold his soul to the horrible jackal-headed god Anubis for his help. He returns here with one whole movie to himself, but this time as the good guy, who saves the world from the evil designs of the warlord-king Memnon (Steven Brand). Hurrah!

Assassin to king... the plot ain't exactly very new. It's actually a few thousand years old! Schwarzenneger tried it in the Conan series. The Rock gives it a shot here. What he has to give him an edge is an awesome effects team, some tight direction, some well-choreographed action sequences, and, perhaps most importantly, a hot lady on his arm (Kelly Hu). To top it all, the lady is a sorceress who has visions of the future, subject to the maintenance of her virginity! Now we are talking!

Mathayus (The Rock) is an assassin by profession who hails from a tribe of professional assassins (now we understand the 'Jackal' part). He is paid to assassinate Memnon's sorcerer, who is the main reason for his success so far. Our assassin gets there to find he has been betrayed, as the rest of his team perishes to arrows, and he, to one look of the sorcerer... er, sorceress. He is caught, but the sorceress saves him, stating Rule 241 of the Magical Guidebook to executing assassins.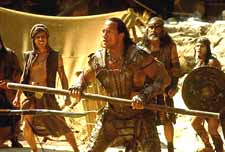 Now, the guy has a brother to avenge, a despot to kill and a maiden to carry away. The rest of the movie is basically, item one... check. Item two... check. Item three... wow! Now that's an item!

One sardonic raised eyebrow, a grimace each time he grunts out a word (most of them as profound as 'yes') and a frame that casts no doubt that he is indeed capable of reducing entire armies to pulp, The Rock sure makes a hot Scorpion King. Where our monolith scores over Arnie is his timing, which is impeccable. One particular 'boo' right in the beginning of the flick was a scream.

With Oriental strains at times and the unmistakable riffs of an electric base guitar at others, the music keeps up with the tempo the movie sets. The fights are well executed, and the straining muscles, the clash of metal and the sheer violence of the blows make sure you stay engrossed. The hollowness of the plot does get through at times when you recover, albeit a li'l dazed, from the heat of the battle, but then there is the enchanting sorceress to take your mind right off trivial matters.

If you are one of those war-movie kinds, watch The Bridge On The River Kwai. But if you want some easy adrenaline with a totally uncomplicated story and one hot woman (I seem to be obsessed with her, don't I?), this may be right up your alley.