What can I say that'll actually make you want to go and watch this film? Quite a bit actually - if I said it was really good, must-see, or unmissable, you just might be curious. Go and see it even - who knows! But I'm not doing my kartavyam then, am I? How will Assistant Commissioner Parashuram ever forgive me?

If you've had a look at the credits, you might wonder whether there are any women in the flick, and this might have a huge bearing on whether or not you go for the movie. The on-screen credits said there was only one actor in the film - "Action King Arjun". I knew half the film by then. If I tell you it's about youth being lured into terrorism, voila! You know the rest now, don't you? I could stop right here and everyone's happy. But ACP Parashuram might scream "Oraaaaiiii!" and kick some butt in my dreams tonight, and I'm shakin' scared it might be mine, if I don't do my kartavyam. So here goes.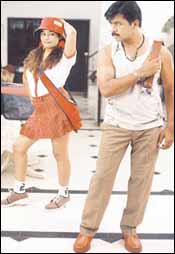 Arjun is ACP Parashuram. Oh, you got that already? We have a smart audience tonight! Anyway, he's worried about one guy Akash, who's tricking young, jobless, frustrated youth into becoming terrorists and human bombs and the like. The thing is - nobody's seen Akash, who works through instigatory audio tapes, and this makes things tougher for supercop. Parry boy goes about in his own Parry-land... la la la... doing his Parry thing... la la la... You know, kick some ass here, kiss the girls there.

Then he comes across Siva (Abbas) in a canteen. Siva is a poor student working so that he can study electrical engineering. Parashuram takes him under his wing to help him out. As the tisht in the tale unfolds, we are introduced to Akash, played by the really good Rahul Dev. Through spying and counter-spying, it finally comes to a one-on-one showdown between Parashuram and Akash. This leads to a decent, not overly melodramatic or speech-filled ending.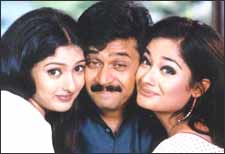 So there you are - the story of a zillion earlier movies, made unforgettable by classic dialogues like "Raaaaaaiiii!!" , "Bostud", and many more. Some of these can be found framed in one Mr. Sai Kumar's house, the winner of the prestigious "Most Predictable Dialogue Delivery" award. There are two 'heroines', and their scenes are vaguely reminiscent of another highly underrated genre of films. First one girl with the hero, then the other one, then the girls with each other and finally a threesome. I'm talking, of course, of the 'songs'.

Which brings me to the 'music'. Apparently, it's A R Rahman's work. Apart from the recognizably Rahman-ish background wail of "Parashuraaaaaam" which crops up every so often, and the background score, nothing else is worth two bits. The inspiration for the rest of the 'music' may well have been a bunch of enthusiastic 6-year-olds locked in a music instrument shop. Hell, I almost wept when I heard a direct lift of Rammstein's "Du Hast" in the background score! The dancing, especially Arjun's, looks more like they are trying to put out some errant firecrackers.

The best parts, of course, are those with Rahul Dev. He brings a certain refreshing intensity to the proceedings and is very believable. The final showdown between him and Arjun takes one back to Bruce Lee and Chuck Norris' classic duel in 'Return Of The Dragon'. Abbas is good, but it's a little sad to see how the mighty have fallen after the dizzying heights of Prema Desam. Arjun looks old, and the car and van blasts have increased a few feet in height. Apart from that, nothing new here.