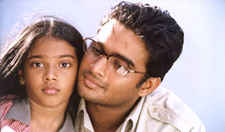 Amrutha is one of the best ever movies made on Indian soil. It's the same genius that Mani Ratnam showed in Anjali that's back on display, and this time he says it with even more Jell-O. One of the most tender tales ever narrated, it has you all dewy-eyed consistently, and puts Mani Ratnam firmly in the league of the Old Masters of celluloid.

The story starts with that quintessential Mani Ratnam trademark - a pre-credits prologue. In a small village in war-ravaged interior Sri Lanka called Maangalam, a frisky young Shyamala (Nandita Das) is just off the pandal and frolicking around with her newly-wed Dilipa (Chakravarthy) in the sylvan rural locales, when a posse of soldiers surrounds a lake they're cavorting at. Cowering in the undergrowth, Dilipa tells a tearful Shyamala that he has to leave, for freedom's sake. He runs away, never to appear again.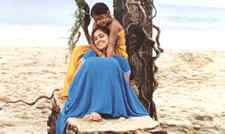 Shyamala already has one baking in the oven, and when the savagery of war catches up with Maangalam, lands up at a refugee camp at Rameswaram in India and delivers. And abandons the baby at a Red Cross camp there to get back to Maangalam.

It's Madras 9 years later, and 9-year-old Amrutha's biggest problem in life is her Telugu teacher, who so grimpishly insists that she be studious in class. Mom Indira (Simran) is still okay despite all her "nagging", and Dad Srinivas (Madhavan), a famed writer, is swell. And two kid brothers are good jellyroll to pummel.

An excellent Sundari song later, it's Amrutha's 9th birthday, and idealistic Srinivas has decided that she should now know the truth, from her parents before someone else tells her - that she was adopted.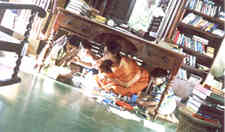 Nothing has changed, insist the doting parents in a series of brilliant scenes, but the kid is conflicted and wants to know exactly why she was abandoned and who her real mother is. And when she makes an unscheduled departure from home for Rameswaram to trace her mom out on her own, Dad decides that they might as well join the mission themselves.

And so the trio gets to Sri Lanka, and to Maangalam there, but fails to find Shyamala there. Maangalam is destroyed in an air strike just as they get there, and moving around in the debris, Srinivas and his escort Wickramasinghe (Prakash Raj) are captured by some LTTE cadres, whose leader, in a contrived scene, recognizes Srinivas as the great writer, and also happens to know Shyamala's whereabouts - she's his own sister, and part of the camp. He promises to get her to a park the next day to meet her daughter.

But back at the camp, Shyamala refuses to go.

The film is sheer brilliance at the rate of 24 frames per second, and in every discovered aspect of movie-making. A novel and touching story, exceptionally creative conceptualition of situations, outstanding performances, some great dialogues ("We didn't adopt you," Srinivas tells his teary-eyed daughter, "you adopted us."), excellent music (it's Rahman) and the usual Mani Ratnam technical sheen make this an absolute must-watch.

Amrutha is a celebration of subtlety, with most feelings conveyed through expressions rather than through words. And when you're trying to do that, you need brilliant performances. Which is what is a huge asset for the film.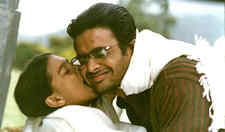 Simran and Madhavan are outstanding - the former especially so. But while they are pros, it is entirely to Mani Ratnam's credit - again - that he could make the kids perform the way they did. Keertana, daughter of one-time heroine Seeta, is excellent as Amrutha. And all the scenes involving the kids are a class apart.

A superb portrayal is of Shyamala, by Nandita Das. The last scene of the film had even some earring/leather-jacket/bracelet donning youngsters in the theater looking embarrassed when the lights came on, thanks to eyes gone all red. There was practically no one that this writer saw around him without some new improved glistening.

There will perhaps be critics carping about small licenses taken in the depiction of the situation in the island, things like an oh-so-filmi rain that starts right at a dramatic moment, that scene where the Tigers recognize Madhavan, the improbable escape in a car from the middle of a virtual battlefield etc., but they are just minor flaws in a tremendous effort (though they still cost the last half in the rating...). The only rather unrealistic thing is Amrutha's hostility towards her mother after she is told.

Above all, Amrutha is a manifestation of directorial genius. Don't miss Padmasri No. 1!