What if God was one of us... Just a slob like one of us...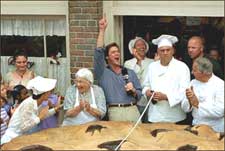 Wonder what Joan Osborne was thinking of when she sang that, but Bruce Almighty gives us a little look-see into that concept; and that idea might worry the last hairs off the heads of the pious lot among us. Every so often we are subjected to one of these be-good-God-is-watching movies from Hollywood, but putting Jim Carrey into one of them makes it... wellll... a Carrey movie!

Bruce Nolan (Jim Carrey) is your standard edition small-time reporter. He can't stand his job of reporting the little human interest stories, when he feels he should be doing the newscast. Symptoms like the biting sarcasm and screw-you-too attitude towards his competitor Evan Baxter (Steve Carrell) show he's got a severe case of the welcome-to-my-world syndrome (some of us may actually share his sentiments about life in general!).

His lovely girlfriend Grace (the wonderful Jennifer Aniston) is supportive throughout his tantrums, balancing him, her day care center and other social work in her happy life. One day, Bruce loses out on the anchor position, loses his cool on live camera and loses his job to boot. He raves and rants at the Man upstairs and even prays to the God he's blamed for all his troubles for so long. And then, he gets his chance.

God (the delectable Morgan Freeman) has a little chat with Bruce (in a scene very reminiscent of the small screen movie Oh God!) where he decides to show him that God's job isn't so easy. So God gives Bruce all his powers for (subtext: Biblical reference) 7 days, to see what it feels like. Our boy is thrilled, and finally, the one joke in this one-joke film gets underway.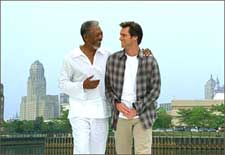 Bruce uses his powers to have fun with his girlfriend, get back at Evan and generally have fun. But he realizes the job also involves duties and responsibilities - like answering prayers. After some similar and predictable shenanigans like Grace walking out, Bruce gives up and goes crying to God. God gives him some gyaan and, to use some IIT jargon, you begin to feel it will be a God-level achievement if this flick makes it really big anywhere.

Bruce Almighty is a very afternoon tea-and-cookies-time type of movie. There are the usual Carrey chaap jokes and humor, but the cheap gags are sufficient to draw a smile and a chuckle. The real belly-cracking gag credits go to Steve Carrell (as the anchor Evan) though, when he has trouble speaking during a newscast. You can't stop laughing for that one!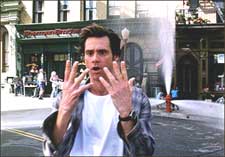 Jim Carrey looks visibly older and seems to have made a few more trips to Wrinkle City since last time. But the fact that the audience started giggling when he came on screen bodes well for a star in desperate need of reinventing himself, as he so successfully did in The Truman Show. Carrey tries, but at times you begin to feel like you've pretty much seen all he's got facial expression, contortion-wise. But an actor with his kind of talent will probably never be down for too long.

Ahhh... Jennifer Aniston... what can I say about her. Like the director himself said, there are so few people in the industry who can combine sexiness, vulnerability and humor into one package the way she does. The movie is a Carrey vehicle no doubt, but Aniston manages to make an impact.

The last black guy to play a God-related role, in recent memory, was probably Denzel Washington as an angel in The Preacher's Wife. I can't think of a better black man than Morgan Freeman to be elevated to the highest status. He was also probably the first black US Prez in a major role (Deep Impact) and he doesn't disappoint in his present role either. Freeman carries the weighty mantle with ease and underlines his versatility.

Comparisons to Oh God! are inevitable, and that movie with John Denver and George Burns was so much better and pertinent. Bruce Almighty has too many loose ends, and the loss of the basic plot towards the end hits the movie where it must hurt the most. But a Jim Carrey comedy has its basic threshold level of laffs, and this one just about clears it. Got a coupla hours to spare?