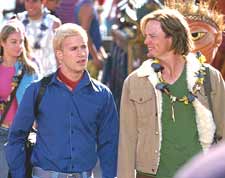 They did it with "Star Wars", they did it with "Josie And The Pussycats", they did it with "Rocky & Bullwinkle". And now, thanks to all that experience, Hollywood has mangled Scooby Doo as well.

The honchos out of Los Angeles never seem to get the formula right for converting a television series into a watchable film, do they? The original cartoon was dumb, fun, formulaic and harmless; this version captures the loopy essence of the source material, doggedly (pun unintended) aping a feature-length episode. Sadly, the cool crime solvers with the groovy van were irrevocably ruined the moment Hollywood set its money-laundering sights on them. The '70s context is lost. And the lovable Great Dane has been reduced to a computerized shadow of its former self.

The film begins with the break-up of the youth detective group, Mystery Inc. Velma (Linda Cardellini) is tired of vain, ascot-wearing Fred's habit of stealing the spotlight; Daphne (Sarah Michelle Gellar) is tired of being the damsel in distress; Fred (Freddie Prinze, Jr) goes off to write his book "Fred On Fred"; and Shaggy (Matthew Lillard) and Scooby, who didn't want the group to split up, run off to smoke stuff on the beach. Which is probably why they are supposed to be "pot" heads.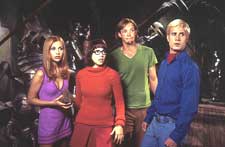 Rowan Atkinson, the ubiquitous "Mr. Bean", is Mondavarious, the owner of a creepy spring break hangout called Spooky Island. Allowing for the fact that college students actually flock to a place named Spooky Island for a spring vacation, it is rather hard to

imagine why they would want to leave once they get there. But leave they do, and in droves, so the Mystery, Inc. gang is hired to solve, umm, well, the mystery. It would have helped if we knew why they were leaving, at least at the end of the movie.

Each of them tries to be the hero, but of course, after plenty of hijinks and a few "Zoinks!", they end up doing it together. It would also have been nice to find out why all their detecting was done in isolated places. And why we almost never see them together in their van.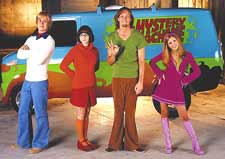 It is perhaps a sign of the times we are in that "Scooby" includes love interests for everyone in the movie and an MTV-like beach party atmosphere. And required or not, where there is a beach there is a Pamela Anderson thrown in as well.

Sarah Michelle Geller is adequate in her role, but somebody please feed this woman. You fear that a louder than normal sneeze from Scooby will blow her away. The tomboyish Velma just about passes muster, but the star of the film has to be the voice of Shaggy, Matthew Lillard. He is absolutely seamless in his interactions with the doggie, which is an added incentive. Now if only the humor in the film were funny, and the animation slightly more animated.

To be fair, "Scooby" isn't mindlessly violent or a danger to society at large. In fact, it even has a happy-go-lucky message hidden away inside it. But we should expect, even demand, more from movies that we show children. Whether the movie is anything to get excited about depends on how much you enjoyed the original. If you've never seen the Scooby-Doo cartoon before, chances are you'll wonder what all the fuss is about.