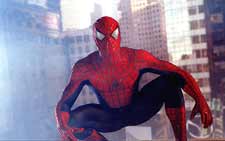 If getting bitten by a mutant spider causes one to be such a swinger, then lay it on Buddy and BITE ME! Nerdy Peter Parker gets his goody bag of superhuman powers when he gets chomped in his hand by a rather randy arachnid during a school visit to the science center, and the result is... well, the world's highest first weekend grosser.

A straight-A's student with glasses bigger than a space observatory, Peter Parker wakes up the next day to find himself equipped with a buff body and tight butts to boot. Oh yeah, he also finds himself able to scale walls and swing from roof to roof with alarming ease, but that's beside the point! And like dealing with this newfound ability wasn't enough, he finds himself battling the usual teen problems - like being in love with the gal next door.

Peter Parker being Peter Parker doesn't have it in him to go tell his childhood crush how much he freaks out on her. You can almost see Batman in the audience slapping his forehead in disgust. Anyway, Peter lives with his super nice Uncle Ben (James Franco) and Aunt May (Rosemary Harris). When Ben gets killed in a freak accident that Peter could have helped prevent, the spider in him awakens, and in a loud voice over we are told that 'with great power comes great responsibility'. Boo! Bring on the stuntsman! And they do!

Enter The Green Goblin (cheeer cheeer! gimme a G!, gimme a R!..), the quintessential baddie who in a rather corporate manner tries to entice Spiderman to join forces with him, just 'cause being the only one wreaking havoc on humanity is so boring and morbid. Spidey says no, and this pisses off the Goblin like nobody's business. Goblin, through a stroke of luck, discovers Spidey's identity and attacks his family, thus hitting him where it hurts most.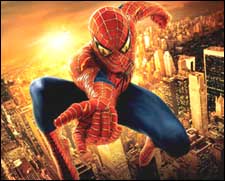 What ensue are some action scenes with Gobby and Spidey battling it out. Spidey in his fab spandex suit swings from top to top (whichever top he finds), spinning his web and hanging loose. Whooosssshhhh! Is it a bird, is it a plane...oh, no! Get back to work, folks! It's only Spiderman (awwww, shucks!).

Naah, cruelty aside, there are some battle scenes which somehow are low on F/X and seem to be there only to let us know that Spidey is into crime fighting (just like Vajpayee and his bellicose speeches). Gobby, though, is one heck of a tacky villain. Yeah sure, the shield-like-whatever he zips on is cool, but a villain with a stick-on mask doesn't exactly have your knees rattle out the national anthem. What's with his mask? And where did he get it? Kid's Kemp?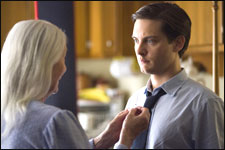 Whatever! You love to see Gobby and Spidey battle it out, though. Check out this corny line: Gobby goes "You're out, Spiderman!", and Spidey retorts "You're out, Gobby... out of your mind!" Awww heck, Parker! A nerd is a nerd is a nerd!

Anyway, the movie stays close to the comic books and is more about Peter Parker the man than Spiderman the hero. I guess the next hundred sequels would be dealing with that, anyway. Not as visually cluttered as the Batman movies, Spiderman is neat and easy on the eye. It's a different issue that there are cobwebs and spider crap all across the screen!

Whichever wall you choose to look at, Spiderman is a neat bet to check out. It may be koncham 'bachcha type' in its action scenes, but just let's indulge Peter Parker for old time's sake! As for me, I'm off to my designer - I wonder if I'll sweat in Spandex!